John Moat 1936 - 2014
Donate Now
Issue 287

Nov/Dec 2014
The Future We Want and the One We Can't Afford
Ethical Living
John Moat 1936 - 2014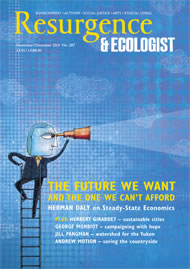 Cover: Illustration by Dennis Wunsch www.denniswunsch.com
Lindsay Clarke pays tribute to a poet, painter and peace activist.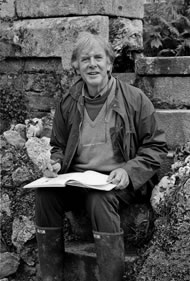 Photo by Andrew Lawson
Many readers of Resurgence & Ecologist may be familiar with John Moat's bright, engaging spirit only through the delightful columns he wrote under the pen name Didymus – his last appears on the facing page – but John was a man of many gifts and he was invariably generous with them all. This was certainly the case in his commitment to the values of this magazine, for which, many years ago, he and his wife Antoinette helped Satish Kumar and June Mitchell – and Resurgence, as it simply was then – find a permanent home in Hartland, north Devon. "He was a rock to us," says Satish, "a constant source of encouragement and support offering a hand of friendship and a heart of love."
Thousands of people whose creative lives have been enlarged by the Arvon writing courses he established with his friend John Fairfax in 1968 are also beneficiaries of John's generous and inventive heart. His own skills as writer and painter were encouraged by two mentors committed to the integrity of the artistic life: the painter Edmond Kapp and the poet John Beaumont. Those early learning experiences fused the transformative powers of art and education in his imagination, eventually providing the model for Arvon's work.
With Antoinette's support, John also founded Tandem to refresh the creativity of teachers, The Yarner Trust to propagate self-sufficiency skills, and The Extension Trust to assist imaginative endeavour. Meanwhile he produced works of rare distinction in verse and fiction, along with many fine paintings, and his inspired collaboration with Antoinette and Satish gave the world the Peace Prayer:
Lead me from death to life, from falsehood to truth; Lead me from despair to hope, from fear to trust; Lead me from hate to love, from war to peace; Let peace fill our hearts, our world, our universe.
Behind such prolific enterprise lay a humane vision of the urgent need for change in the world and the energy to accelerate it. However, John viewed himself as the vehicle rather than the author of these achievements. About Arvon he wrote: "I've often wondered to what extent the thrust behind the adventure came from Fairfax and myself and how much was the determination of the Imagination itself." Practising meditation with the same diligence he devoted to his work, John came to recognise Imagination as the eternally renewing source of true creation, both the voice of the soul and a mysterious life force that he revered as sacred throughout a life lived in its service.
Having long rejoiced in the kindly warmth of his friendship, I recently walked with him on the cliffs above the mill-house where he lived for 55 years and where his poems, novels and paintings were carefully crafted out of his love for his wife and the beauty of that corner of the Devon landscape. We knew his time was now short, but as I listened to his quiet composure, I was deeply moved by the patient, generous-hearted wisdom with which he had transformed the ordeals of his illness into a profound affirmation of life and love for his family and many friends.
That John was an alchemist of the Imagination is clear in the truthfulness, far-reaching insights and often very funny pages of his recent memoir, Anyway. He was both messenger and guardian of values deeper than those currently fashionable, and as writer, educator and philanthropist he did everything he could to foster their growth. Always a loving husband, father and friend, John Moat was one of the most complete human beings it has been my privilege to know. His legacy is inspirational and his presence is sorely missed.