Senses of Place
Donate Now
Issue 287

Nov/Dec 2014
The Future We Want and the One We Can't Afford
Reviews
Senses of Place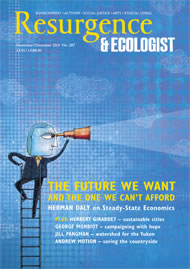 Cover: Illustration by Dennis Wunsch www.denniswunsch.com
Greg Neale reviews three highly different works of Nature writing. Home Country by Richard Mabey. Little Toller Books, 2014. ISBN: 9781908213211 Meadowland: The Private Life of an English Field by John Lewis-Stempel. Doubleday, 2014. ISBN: 9780857521453 On Silbury Hill by Adam Thorpe. Little Toller Books, 2014. ISBN: 9781908213242
Nature writing is currently enjoying something of a golden age in Britain, though perhaps that might equally be described as the current state of Nature reading. As discussed elsewhere in these pages, the natural world and writers' reflections on it are attracting new audiences as well as encouraging new interpretations. Resurgence & Ecologist readers thinking about seasonal gifts might therefore find inspiration in these three books, each reflecting a differing way of viewing the natural world.
Richard Mabey's publishers describe him as "the godfather of contemporary nature writing", and certainly few others have written so extensively and discursively over the past four decades as he has, whether in his encyclopedic Flora Britannica, his writings on natural food and foraging or, more recently, his account in Nature Cure of how the landscape of East Anglia helped him confront depression.
Home Country originally appeared in 1990, but it has now been republished in a handsome paperback edition with a thoughtful introduction by Andrew Motion and some excellent illustrations by Paul Nash. It is an account of Mabey's childhood and early adult years growing up in two contrasting landscapes – the Chiltern Hills area around Berkhamsted, and coastal Norfolk – as well as his subsequent explorations of marginal landscapes within London, culminating in his purchase of a small Chilterns wood. As such, it is an invaluable insight into his development as an observer of and thinker about natural history and landscape. "What is it that makes us so moved by the signs and territorial movements of other species?" Mabey asks at the conclusion of this memoir. "Are we reminded of our own animal ancestry, of maps and calendars encoded deep in our biological make-up?" Mabey has spent much of his career in such – for us – profitable observation, such poignant speculation.
Another calendar marks John Lewis-Stempel's Meadowland, his record of a year in "the private life of an English field". If recent decades have seen the flowering of 'micro-histories', with such writers as Emmanuel La Roy Ladurie and Eamon Duffy mining local records to illuminate our understanding of the Cathars and the English Reformation respectively, then Lewis-Stempel's book is surely a micro-natural history. The author is a farmer, a military historian and a naturalist, and Meadowland is his diary of a year spent observing a field on his Herefordshire farm near the English–Welsh border.
This is Nature writing stripped of sentiment. Lewis-Stempel sees the land through a farmer's eye as much as a naturalist's. He has a keen eye for wildlife, but one just as keen for his own livestock. There is a vivid description of his coming across a red kite tearing at the still-warm body of one of his recently born lambs. The natural historian in him admits how "years of persecution by keepers on shooting estates beat the bird back to mid Wales" and its mountain fastness, before recording, honestly, "Today I wish the damn wall of the mountain had held the bird back." Unsparing, Nature red in tooth and claw: seen through the eyes and pen of a writer engaged in wresting a living from the land, yet also alert to the silent signs of the seasons.
Whilst Meadowland paints a vivid picture on a confined canvas, Adam Thorpe's On Silbury Hill explores a landscape across millennia. Two decades ago, Thorpe's magnificent novel Ulverton, exploring English village life from Civil War fastness to modern commuter development, announced his imaginative talents. In his latest book, Thorpe explores his long fascination with the extraordinary Neolithic mound that rears above the Wiltshire countryside, forming a mysterious adjunct to the nearby stone circles of Avebury and Stonehenge.
As a not particularly happy schoolboy at Marlborough College, Thorpe found his imagination kindled by the prehistoric landscape. In On Silbury Hill, he counterpoints this obsession, with autobiographical passages of his boyhood, adolescence and early adulthood spent variously in England, India and West Africa – a child of empire, now a writer living and working in France. Yet the Earth mysteries of Silbury and its environs call him still. Honest enough to admit that we cannot hope to do more than conjecture at the precise purpose and meaning of these monuments from the distant past, and yet sympathetic to successive archaeological, psychological, poetic and spiritual interpretations, Thorpe proves an engaging guide to a landscape steeped in secrets.