In Famous Footsteps
Donate Now
Issue 287

Nov/Dec 2014
The Future We Want and the One We Can't Afford
Reviews
In Famous Footsteps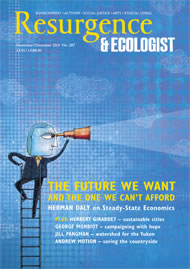 Cover: Illustration by Dennis Wunsch www.denniswunsch.com
Peter Reason follows two walkers through the heart of Europe. Walking the Woods and the Water: In Patrick Leigh Fermor's Footsteps from the Hook of Holland to the Golden Horn by Nick Hunt. Nicolas Brealey, 2014. ISBN: 9781857886177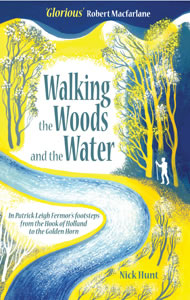 Cover illustration by Ed Kluz
In 1990, shortly after the Berlin Wall had fallen, I was invited to a conference in Hungary on the educational challenges of the countries emerging from the Communist Bloc. For three days we talked with teachers, politicians and civil servants, all excited by the opportunities in their free societies. We also saw the first uncomfortable signs of exclusive nationalism and the flip-flop from restrictive planned economies to rampant consumer capitalism.
As we explored the old city of Budapest, with its crumbling grandeur, marvelled at the great River Danube, and visited as many bathhouses as we could, I was thrilled to experience the opening up of what seemed like the heart of Europe. I was also disturbed to realise how little I knew about those countries that had been on the other side of the Iron Curtain. As in 2014 we mark the centenary of the First World War, and our popular press is up in arms at the so-called invasion of alien Romanians, I am reminded again of my ignorance of what was the Austro-Hungarian Empire and its conflicts with Tsarist Russia and the Ottoman Empire.
In December 1933, 18-year-old Patrick Leigh Fermor – known universally as Paddy – who came from a privileged but disturbed family background and had a history of failure and rebellion at school, set off to walk from the Hook of Holland to Constantinople (as he insisted on calling Istanbul). Many years later he wrote about the journey in two books, A Time of Gifts and Between the Woods and the Water, leaving at his death in 2011 the unfinished manuscript of a third, since published as The Broken Road. These books have been hailed as among the finest travel writing of the 20th century.
In 2011 a rather older Nick Hunt, who as an 18-year-old had been inspired by A Time of Gifts, set out to follow in Paddy's footsteps. Walking the Woods and the Water is his account of the same journey 78 years later, a narrative that ranks alongside Paddy's in its adventure, its observation of culture and Nature, and the quality of its writing.
Paddy wrote that his intention was to travel like "a tramp, a pilgrim, or a wandering scholar". He describes his journey along the road in hobnail boots and army greatcoat, meeting people in streets and bars, in churches and monasteries, in woods and on hillsides. The Europe he travelled was both intensely local and cosmopolitan, with Jews, Turks, Bulgars, Slavs and Magyars intermingled in sometimes friendly, sometimes hostile relationships. It was still a Europe of peasant farmers and shepherds. But it was also a Europe of the old aristocracy of the Austro-Hungarian Empire, to whom the charming Paddy obtained introductions. So, in between tramping and sleeping rough, he moved from one grand mansion to another, studying in their libraries, engaging his hosts in historical and philosophical discussion, and participating in the balls and parties of elite culture. But change was clearly on the horizon, even though as a young man he could not see it coming. In Germany, Hitler had just become Chancellor, and Brownshirts and Nazi salutes were becoming common on the streets.
Nick Hunt walked through the same landscape in a culture utterly changed by the Second World War, the holocausts and ethnic cleansing, the grim totalitarianism of Communism, and the kleptocracy of the market economy. The small farms have been drawn into collectives; the great houses are now ruined or have been converted into mental hospitals. The Danube has been dammed at the Iron Gates and elsewhere, so that ancient sites Paddy explored are now deep under water. There is a grim sense of tragedy, of people and places having endured deeply dark times. And yet, even while the culture has been impoverished and the natural world carelessly exploited, at the end Hunt discovers "the deep continuities between our times". While "suburban sprawl, motorways and hydroelectric dams may have irrevocably altered landscapes […] Europe's wilder edge seldom felt far away". Similarly, "in human terms, everything and nothing had changed," since beyond the larger tragedies, "people's lives, with their everyday quibbles and concerns, hadn't greatly altered," and "in every country of my walk I encountered kindness and generosity that Paddy would have recognized." As the young Turkish man who buys Hunt tea toward the end of his walk puts it, "The way we see it, you have walked all this way just to meet us."
There is an awful lot of reading in these four books (to which one might add Artemis Cooper's biography of Paddy) and few will want to read them right through in sequence. Nevertheless, they deserve our attention, because they give engaging accounts of human living on Earth over a period of decades, and provide Western Europeans with a glimpse of a part of our continent of which we are often shamefully ignorant.