News from the Grassroots
Donate Now
Issue 290

May/Jun 2015
Becoming Barbarian
Frontline
News from the Grassroots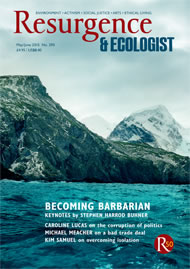 Cover: Arctic Moss (5,500 years old), Elephant Island, Antarctic by Rachel Sussman
Issue availability
Reports from around the world.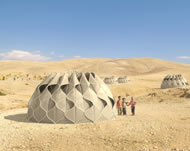 Shelter © Abeer Seikaly
UK: TIDAL POWER PLAN UNVEILED
Plans for a series of six electricity-generating tidal lagoons have been unveiled by a British-based company. Four of the lagoons would be in Wales, one in North Somerset and one in Cumbria. Proposals for the first scheme, near Swansea, have already been submitted to the planning authorities. Tidal Lagoon Power (TLP), the company behind the scheme, says it could produce enough electricity for 150,000 homes.
The lagoon schemes would produce electricity by using the weight of tidal water to power turbines. TLP says the six lagoons could eventually generate 8% of Britain's power needs, at a cost of £30 billion.
The lagoon proposed for Swansea – which would entail a five-mile wall, reaching two miles out to sea – could be the subject of a formal planning application by 2017, and could be producing power by 2022. TPL says it is designed to last 120 years and could help cut Britain's carbon emissions by more than 236,000 tonnes a year.
AUSTRALIA: 10% OF MAMMALS LOST SINCE COLONISATION
Australia has lost a tenth of its native mammal species since European colonisation in the late 18th century, according to a report by scientists at Charles Darwin University. Writing in Proceedings of the National Academy of Sciences, they say that since 1788, 11% of 273 native land mammals have died out, and 21% are now classified by the IUCN Red List as threatened and 15% as near threatened. "No other country has had such a high rate and number of mammal extinctions over this period, and the number is substantially higher than previous estimates," said John Woinarski, a conservation biologist who led the research.
CALIFORNIA: PLASTIC BOTTLE BAN
San Francisco has become the first city in the United States to ban the sale of plastic water bottles. Over the next four years, the ban will phase out the sale in public places of bottles that contain 21 fluid ounces or less, with violators facing possible US$1,000 fines. Joshua Arce, president of the California city's Commission on the Environment, said the ban was "another step forward on our zero-waste goal". www.globalflare.com
UK: 'BUMP' MAY CUT WASTE
A gelatine-based label that decays to reveal a bump when packaged food should no longer be eaten could help cut waste, its designer believes. Solveiga Pakstaite was initially inspired to help blind people, who cannot read conventional 'use by' labels. She believes her device could give more accurate indication of food freshness. Britons are estimated to throw away some 4 million tonnes of still-consumable food each year.
UK: SUPERMARKET SHAPES UP
The UK supermarket company Asda has begun to carry a new trial range of 'misshapen' fruit and vegetables – sold at reduced prices in a handful of stores – in what it says is an attempt to cut food waste.
PAKISTAN: SOLAR TO BEAT DROUGHT
Sindh province in Pakistan is installing 750 solar-powered reverse osmosis water purification plants in its desert district of Tharparkar, to help get safe drinking water to more than 1.5 million people. Lower rainfall and increasing groundwater salinity has led to 80% of local water sources being unsafe to drink.
FRANCE: WIND TURBINES ON THE EIFFEL TOWER
Two wind turbines have been installed in the Eiffel Tower, one of the world's most iconic urban landmarks. The vertical-axis turbines, built by the US-based renewables company Urban Green Energy, are located 120m up the 324m tower, are said to be virtually noiseless, have been painted to merge with the rest of the monument, and are capable of delivering 10,000kWh of electricity annually, equivalent to the power used by the commercial areas on the tower's first floor.
The turbines form part of a major green retrofit project for the Eiffel Tower, which was built in the heart of Paris in 1889. Energy-efficient LED lights, solar thermal equipment that will provide around half of the hot-water needs of the site's two pavilions, heat pumps and a rainwater-recovery system have also been installed.
CENTRAL AFRICA: LION SIGHTING CHEERS CONSERVATIONISTS
Conservationists have reported sightings of a lion in a region of central Africa from which the animal had been believed to have been driven to extinction, raising hopes for the success of a new conservation programme.
The lion – young, and in apparent good health – was photographed twice in a fortnight in the Batéké Plateau National Park in south-eastern Gabon. The plateau spans parts of Gabon, Congo Republic and the Democratic Republic of Congo. The lion was filmed remotely on cameras set up by the Max Planck Institute for Evolutionary Anthropology, which is conducting a survey of chimpanzees in the area, supported by the Aspinall Foundation.
SOUTH ATLANTIC: SCIENTISTS HAIL BIRD FIND
Conservationists working to save endangered species of seabirds from rat predation on the southern Atlantic island of South Georgia have hailed the discovery of a nest of rare South Georgia Pipit chicks as an indication that their campaign is succeeding. This is the world's most southerly songbird and is only found on the island. A British charity, the South Georgia Heritage Trust, is conducting a £7.5 million project to eradicate rats – originally introduced by whaling and sealing expeditions – from the island.
UK: CORNISH COMPASSION
Community activists in Cornwall have come together to sign up to the Charter for Compassion, the initiative begun in 2008 by the author and former nun Karen Armstrong based on fundamental principles of universal justice and respect. Eighteen local community leaders signed a Charter for Compassion for Cornwall. Tam Martin Fowles, Compassionate Cornwall's founder and coordinator, said response to the initiative was overwhelming.
UK: ADS FUEL JUNK FOOD
Seven in ten parents with children aged 4 to 16 have been pestered by them to buy junk food they have seen advertised on television, according to a survey by the British Heart Foundation (BHF). The BHF, which polled over 2,000 UK parents with children aged 16 and under, is calling for tighter restrictions online and a ban on the airing of junk food adverts before 9pm. Around a third of children in the UK are currently overweight or obese, putting them at greater risk of coronary heart disease, stroke and some cancers in later life.
GLOBAL: TREE APPEAL
A British holidays company entrepreneur is trying to raise £500,000 to plant a million trees in Africa and other tropical regions. Caroline Nettle, of Tree Planting Holidays, said her project also aims to educate local communities about the value of forests and provide alternative fuel sources and other revenue-generating schemes.
GLOBAL: WEAVING SHELTER FOR REFUGEES
A Canadian-Jordanian designer has proposed a new type of low-cost tent for refugees or people made homeless by natural disasters, incorporating traditional weaving designs and using solar power for heating. Abeer Seikaly says her Weaving a Home project is designed to help meet refugees' physical needs for shelter, together with reminders of their traditional ways of life, by drawing on basket-weaving techniques. The design also enables each tent to collect, store and heat rainwater.