At The Edge Of Our Imagination
Donate Now
Issue 290

May/Jun 2015
Becoming Barbarian
Reviews
At The Edge Of Our Imagination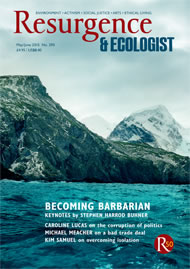 Cover: Arctic Moss (5,500 years old), Elephant Island, Antarctic by Rachel Sussman
Miriam Darlington is beguiled by a celebration of British moorland. The High Oak: A Journey across Dartmoor by Jamie Grant, David Harbott, Marcus Noble & James Richardson. Black Tor Press & Watermill Books, 2014. ISBN: 9780955435874
This lovely landscape essay is a gentle act of subversion and vagrancy in a world where everybody appears to be rushing. It is a walking memoir, and a poetic and artistic response to the place in South West England we call Dartmoor, with its marshes, reaves, hut circles and tors.
Beautifully produced in forest green, the cover shows the sweeping sides of a Dartmoor valley. A streaked porcelain sky casts long cloud-shadows, and catching the light is the low furze of an enticing ancient oak wood. This is the invitation to witness a September journey through "trickster mists, over blanket bogs and granite tors". We are taken by the hand to see three rare, hidden, wooded places. There are very few of these oak-gatherings left on the moor, and this is subtly articulated by image after image of Dartmoor's environments in different lights and moods. Intimate photographs reveal the mossy interior of Wistman's Wood, the labyrinthine detail of lichens in Black-a-Tor Beare, and the shadows cast by branches in Piles Copse.
These are the remnant wilds that haunt the edges of our imagination. We might feel them to be mysterious or impenetrable, but here they are presented as being within reach, and as sympathetic, sheltering places. We don't necessarily have to cross borders or travel vast distances to meet with wonder: it is all here, in the wild close-by.
Walking the trackways and expanses of Dartmoor requires a reacquaintance with focused attention. In his essay on walking, Henry David Thoreau claimed that if he felt he had "walked a mile into the woods bodily, without getting there in spirit", he felt alarmed. This book shows how to arrive in body and spirit.
Amongst the resurgence of books that articulate our neglected connection with the rest of the living world, this one speaks for the Earth in its gathering of poems, landscape sculptures, and delicately etched maps drawn from traditional oak-gall ink. Oak apples were collected from the woods themselves, and ground in the old way to produce the ink to draw the maps. Exquisite photography describes each passage of the pilgrimage where Dartmoor's three remaining ancient oak woods are rediscovered. "Softly spoken, beguiling names on Dartmoor's richly decorated map… The dwarfed and slow-maturing trees, rich with lichens and mosses, seem to have staked their claim in this wild landscape by the grace of the ancient granite boulders amongst which they grow."
Imposed against images of sky, peaty rivers and windblown grassland, the haikus release their magic:
Sharp upon the wind: / like a bradawl keenly pressed – / the buzzard's lonely cry.
Rock sculptures, leaf patterns, found bones and nests of acorns decorate the journey. Bright rowan berries are placed like beads around the charred heart of a campfire, "in a joyful counterpoint to the burnt ground".
At the heart of this graceful book is a ritual of experience: thought and sensation are translated into small works of art, and the idea of a troubled and wounded world dissolves into images of footfall, of moss growing over trunks, into the irrefutable thickening of oak trunks and the pattern of light and shade on the ground. Clock time vanishes into seasonal time, into heartbeat and waterfall. Here is a message of how to see more clearly, to listen more deeply and to feel more truly. Perhaps this book achieves what Barry Lopez has said his writing strives to do: to provide a moment where "thinking and wonder and awe and speculation can take place… in so doing, the metaphorical depth will reverberate there, and ideas much larger than ones I could control are going to come out."
The High Oak invites us into these quiet places and breathes new life into our indigenous language, with a gathered glossary of fading Dartmoor words. Without work like this, how will we be able to cherish and protect our wild places, or indeed look after the wild within?
The High Oak is available from www.jamiemurraygrant.co.uk/books/