Grains of Truth
Donate Now
Issue 290

May/Jun 2015
Becoming Barbarian
Web Exclusives
Review
Grains of Truth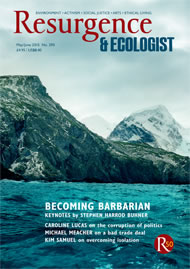 Cover: Arctic Moss (5,500 years old), Elephant Island, Antarctic by Rachel Sussman
Jini Reddy is moved by an anthology of essays. Sacred Seed by Vandana Shiva et al. The Golden Sufi Center, 2014. ISBN: 9781890350635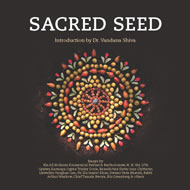 Nature lover that I am, I confess that before I read this book I hadn't spent a lot of time contemplating the humble and yet extremely potent seed.
But, every day, I walk through the woodland and the meadow close to my house. I adore the stillness, the freshness, the old oak trees that I lean against when troubled, the ethereal-looking willows, fronds waving in the breeze, the shrubs and grassy clumps that remain in my peripheral vision, the blackberries I forage in autumn, the horse chestnuts I gather and distractedly jiggle in the palm of my hand, the velvety mulch of autumnal leaves underfoot, and the occasional exchanges with dog walkers and bird watchers. This common land is my comfort, my solace, my quiet joy, my meditation. It is home to bright, eye-catching butterflies, cawing crows, acrobatic squirrels, dragonflies and other wildlife. In short, a glorious natural symphony that would not exist, let alone flourish, were it not for the seed.
That this awareness is now a source of infinite gratitude is down to this anthology of essays. It's a veritable ode to the seed, introduced by Vandana Shiva, who has devoted much of her working life to the cause of biodiversity and seed freedom.
That such a book is being published now says something of our collective need to be reminded of the Earth's capacity to nourish us in ways that extend far beyond the physical. In this sense, Sacred Seed functions as a lens through which to shudder at the violence perpetrated against the natural world. Equally, it invites us to behold those tiny, miraculously life-giving kernels.
Dena Merriam, Founder and Convener of the Global Peace Initiative of Women, writes in the foreword: "We decided to gather spiritual voices to show that the destruction of natural seeds is a spiritual matter, not merely an economic, political, or agricultural issue. There are profound spiritual implications to what we are doing to our seeds, which are, after all, the very source of our survival. The seed is among the most sacred gifts of Nature, and yet in modern times we have come to take this gift very much for granted."
So here is a means of redressing the balance. Among the many passionate essayists who have contributed to the anthology are leaders of assorted religious, Indigenous and spiritual traditions. From Pir Zia Inayat-Khan, president of the Sufi Order International, I learn that in Arabic hubb means 'love' and habb means 'seed'. "From this association it becomes apparent, if it was not already so, that love is a kind of seed, and that seeds are natural symbols of love." Similarly, Sister Joan Chittister, who has spent her life working for justice, peace and equality, reminds us that "we ourselves are all seeds too."
Another contributor, Swami Atmarupananda, a scholar and monk, tells how the magic of his grandmother's garden instilled an urge to grow things. Here is the seed as a "transition between life and life, the bridge over death".
Meanwhile, Mary Ann Burris, founder of the Trust for Indigenous Culture and Health, writes of the "51 seeds in our soil, in our store of consciousness, according to Buddhist teachings". They encompass the full spectrum of emotion and behaviour, she says, and exist in all of us as "potentialities".
And on it goes. The libation to the seed weaves an affecting spell. Perhaps the passage that most kindled within me true feeling for the seed's power is this one, by Sobonfu Somé, a lecturer and activist from Burkina Faso: "Traditionally Indigenous people have known that the seeds gifted to them are the direct translation of the love and trust of the divinities. Thus, they have never considered these gifts possessions or something to be taken for granted. They know that they are dependent on the welfare of this sacred bond, and work to keep it viable."
So, gratitude to the Gods for giving us life itself, via the seed. May we all honour this gift.
Jini Reddy is a freelance journalist. www.jinireddy.co.uk