This is What Matters
Donate Now
Issue 291

Jul/Aug 2015
Climate: It is a moral issue
Welcome
This is What Matters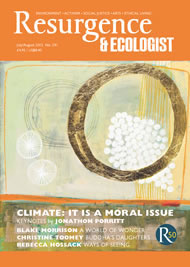 Cover: Community, 2014 by Giorgia Siriaco www.gioeucalyptus.com
Peace, Nature, art and social justice outweigh blind economic 'growth'.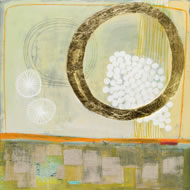 Community, 2014 by Giorgia Siriaco www.gioeucalyptus.com
The Resurgence Trust is a charity. As such, we must avoid party political bias. But for those readers around the world who have not been closely following the UK's recent general election – and who may count themselves fortunate – it is worth making one observation. As the main party politicians traded insults and fell back on the mantra 'What we need is more economic growth, and we're the ones who will deliver it', an increasing number of voters, in different ways, were reflecting their concern for some of the issues that Resurgence & Ecologist has been highlighting for many years: caring for our increasingly damaged environment and facing up to climate change; rebuilding sustainable economies and relations with Nature; supporting localisation, devolution and taking decisions back from increasingly centralised government; peace and social justice. This should encourage our continuing efforts.
All of which suggests that this issue of Resurgence & Ecologist will provide good summer reading. Jonathon Porritt's ringing declaration that climate change is a moral issue, welcoming the intervention of Pope Francis in the debate, is a reminder to us to lift our eyes from the material 'aspiration' of much consumerist culture. Helena Norberg-Hodge delivers a thoughtful critique of the excesses of globalism and its pernicious effects. Taking a historical perspective, Jeremy Seabrook warns us against the complacent assumption that today's industrialised world can only improve – or indeed survive. Jeremy Miller brings good news from the US, where renewable energy is increasingly challenging the dominance of polluting domestic fuels. In Britain, Adam Weymouth reports on the issues surrounding rewilding in the Scottish Highlands. Jules Pretty takes us to the swamplands of Louisiana and the lives of liminal communities. And Christine Toomey travels around the world, meeting remarkable women who have chosen the spiritual path of life as Buddhist nuns.
Our arts pages also have a sense of renewal. Blake Morrison writes of poetry and Nature, Rebecca Hossack reviews the new exhibition of Australian Indigenous art at the British Museum, and alongside our usual poetry pages we've news of the exciting new Resurgence Poetry Prize. Together with our regular columnists and features – and an extract from a remarkable, life-affirming essay by Yehudi Menuhin, written for Resurgence some 45 years ago and still as fresh today – we hope we've assembled a magazine you will enjoy. Whatever the politicians say.