The Resurgence Poetry Prize
Donate Now
Issue 291

Jul/Aug 2015
Climate: It is a moral issue
Regulars
Poetry
The Resurgence Poetry Prize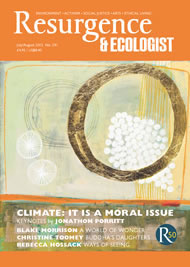 Cover: Community, 2014 by Giorgia Siriaco www.gioeucalyptus.com
Resurgence & Ecologist is pleased to announce The Resurgence Poetry Prize, the world's first major 'eco-poetry' award.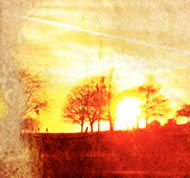 Primrose Hill © Khaled Bazzi, punchypixels.com
Birdsong for Two Voices
A song that assembles the earth
out of nine notes and silence.
Out of the unformed gloom before dawn
where every tree is a problem to be solved
by birdsong.
– Alice Oswald
With a first prize of £5,000 for the best single poem embracing ecological themes, the award ranks amongst the highest of any English language single poem competition. Second prize is £2,000 and third prize £1,000. The prizes will be awarded each year for original and previously unpublished works in English.
Founded in the spring of 2014 by Sir Andrew Motion, a former UK Poet Laureate; Joanna Lumley, the actress and green campaigner; and Peter Phelps, the entrepreneur and environmentalist, the Resurgence Poetry Prize reflects the founders' shared passion for and commitment to poems that investigate and challenge the interrelationship between Nature and human culture.
A poem's spoken quality – its suitability for being read and recorded aloud – will form part of the judging criteria. The three winning poets will be expected to read their poems for use on radio and for recording and download. The competition judges will be Sir Andrew Motion, Alice Oswald and Jo Shapcott.
The Prize operates under the auspices of The Resurgence Trust. The Poetry Archive and the environmental charity Earth Restoration Service are also associated with the Prize. The Prize is governed by an executive board appointed by The Resurgence Trust that includes the founders and other representatives and is chaired by Sir Andrew Motion. Peter Phelps is the Prize's Executive Director, responsible for the overall management and development of the competition.
The prizewinners will be announced at a special award ceremony to be held at Leighton House Museum in London.
The competition opens for entries on 17 July, closing on 1 November 2015. For full details of the rules and how to enter, see www.resurgenceprize.org