Building Resurgence
Donate Now
Issue 293

Nov/Dec 2015
Go With the Flow
Welcome
Building Resurgence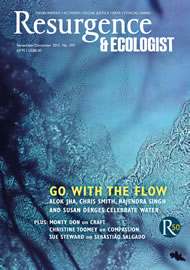 Cover: Cover image: River Taw (1998) by Susan Derges www.susanderges.com
Planning for the future of The Resurgence Trust.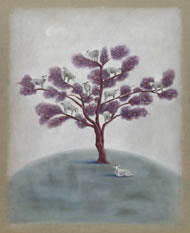 Goats in a Tree by Simone Sandelson www.sandelson.co.uk
The last few months of the year traditionally provoke thoughts of stock taking, as well as plans for the year to come. As 2016 will see Resurgence celebrating its 50th anniversary, we are already planning for our future as well as looking to some of the highlights of our past.

That's where you, our readers and supporters, come in.

Since I started working for this magazine last year, some comments from readers – and former readers – have stuck in my mind.

Particularly among long-time readers, there's a sense that this magazine is the equivalent of a friend: timeless, reassuring and inspiring. But among some former readers – and people who are not regular readers but have encountered it for the first time – there are those who wonder how Resurgence & Ecologist can remain relevant amid changing times.

How do we reconcile these views? The answer, surely, is that we continue to build on the holistic principles that inspired our founders and continue to inspire today: the principles of peace and nonviolence; the importance of localism and respect for people's desire for autonomous, meaningful lives, social justice and equality; the importance of our environment; a realisation of our oneness with Nature; and a celebration of all the arts that examine, reflect and beautify our world. It also means embracing changing ways of communicating the message of Resurgence, as well as confronting the new challenges of the 21st century, challenges from which we cannot retreat into self-absorption.

So, in this issue, we focus on some of the major issues we are facing. A series of articles on water highlights the link between environment and social justice. In the run-up to the Paris conference on climate change, we examine – in our news and features pages – some of the energy issues that confront us. And with images of refugees never away from the headlines around the world, we report in our Frontline section on one response in Britain to show solidarity. There is an echo, too, in Christine Toomey's report on new courses in compassion: personal wellbeing is not enough if it is not mirrored by active concern for others.

Elsewhere, I hope that our pages are suitably inspiring. In particular, Monty Don's Keynotes article on craft reminds us of the beauty and joy that can be found in the creative process. In our arts pages, the story of how the celebrated photographer Sebastião Salgado, chronicler of conflict and catastrophe for much of his career, has been redeemed through the healing power of Nature and his work in environmental restoration, is as impressive as his own pictures. New poetry reminds us of the inspiration of the natural world. And in a selection from our archives, the voice of the Green activist Petra Kelly, campaigner for the planet and the dispossessed, returns to remind us of her passion and the times that inspired it.

All in all, then, much to remind us of what Resurgence & Ecologist represents, and what we are building on for the future. Now, over to you – what do you think?