Sun Shines on Resurgence Summer Camp
Donate Now
Issue 293

Nov/Dec 2015
Go With the Flow
Frontline
Sun Shines on Resurgence Summer Camp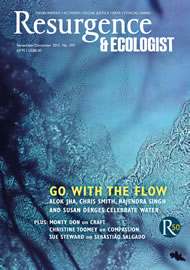 Cover: Cover image: River Taw (1998) by Susan Derges www.susanderges.com
Reflecting on a joyous celebration filled with talks, music and laughter.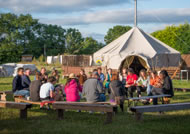 Camp fire at Green & Away © Diana Jarvis
If the 'top of the morning' is that brief period of warmth and sunshine on a spring day in County Cork before the drizzle sets in, then this year's Resurgence Summer Camp was the top of the summer for all who made the trip to the Green & Away site in the Worcestershire countryside at the end of July, Oliver Tickell writes.

And if summer's lease hath all too short a date, all the more reason to make the most of it. Friendship, debate, discussion and enlightening talks, music, song, dance, comedy and thrice-daily feasts of wholesome and delicious vegetarian fare were the order of the day.

After an opening Thursday evening concert by the multi-instrumentalist Sika, Friday's events emphasised the themes of this year's 'Resurgence in Action' camp: the connection between personal and social change, campaigns to protect the planet, and wellbeing. Alex Nunn of the Action for Happiness campaign got people thinking about how we can improve our emotional resilience, reaching out to others as well as to ourselves, while Joe Hoare's talk, 'Wake up Laughing', had his audience doing just that.

Traditionally, the Friday evening 'open mic' session throws up new stars from summer camp attendees. This year's, compered by Resurgence & Ecologist editor Greg Neale, was no exception. After transport problems frustrated 'QWERTY Something' poet Matt Harvey's attempts to reach the camp, actress Ruth Lass volunteered her help. Stepping in at a few moments' notice, she read Matt's hastily emailed work to loud applause.

Elsewhere, environmental activist Paul Mobbs gave us all plenty to think about with his presentations on the surveillance society, the great fracking con-trick and effective campaigning. Julian Rose's inspiring double act with Jadwiga Lopata enthused us with the struggle of Polish farmers to preserve their traditional agriculture in the face of the neoliberal onslaught of factory farming, GMOs and malicious 'hygiene' regulations. And our own Satish Kumar delighted his audience with his reflections on environment, philosophy and culture.

And that was when we were not taking barefoot Nature meditations along the river Teme, drinking a pint in the comfortably tented bar, spotting shooting stars by moonlight, relishing a blazing wood fire, or experiencing the pleasure of a hot shower in the open air followed by mind-sharpening cups of very real coffee in the early-morning sunshine.

There was a sense of sadness among those who – wrongly, we hope – feared this would be the last such gathering: next year marks the 50th anniversary of the launch of Resurgence, and a four-day special event is planned in Oxford, occupying much of The Resurgence Trust's limited organisational resources. But other, outdoor events have been proposed, and we have every intention of holding our next Summer Camp in 2017 – happy news whose breaking was greeted by the longest and strongest round of applause of the whole long weekend, amply affirming the collective will to keep this joyous celebration alive for many years to come.

To listen to a track from Sika's CD Bubbling Over, visit his website: sika.bandcamp.com/album/bubbling-over