A New Year: A Renewed Commitment
Donate Now
Issue 294

Jan/Feb 2016
A Food Renaissance
Welcome
A New Year: A Renewed Commitment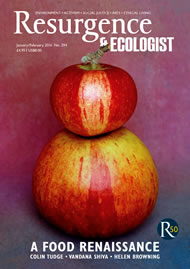 Cover: Cover image: Tessa Traeger www.tessatraeger.com
Issue availability
Exploring new ways of thinking and living.
Welcome to our first issue of 2016. In May we will reach the 50th anniversary of the first publication of Resurgence, so this will be a year of celebration. A particular high point will be a planned three-day gathering in Oxford in September where speakers and performers from around the world will help us mark this significant milestone – more news on this in our next issue, and on the Resurgence Trust and Ecologist websites when it is available. We also hope to record our half-century in many other ways.

Yet, as enjoyable as our celebrations will be in marking the achievements of Resurgence since its launch in 1966 (including our merger with The Ecologist four years ago) this is also a year to look forward. To that end, we are planning further developments and improvements in all that we do, whether in our magazine, on our websites and other digital platforms, or through the events and activities organised by the Resurgence Trust and our readers' groups around the world. We welcome your comments and suggestions, as always, and invite your participation.

At the heart of our activities, of course, remains this magazine, with its offering of richly diverse reading. Our relationship with Nature has always been a key topic; in this issue, several articles explore this connection through the subject of food and farming – from Colin Tudge's account of a new online initiative to encourage the best, sustainable practice in agriculture, to Julia Ponsonby's advocacy of seasonal cooking. (You can find more of her tempting recipes online.) In his Keynotes essay, Glenn Aparicio Parry argues that a combination of ancient wisdom and modern scientific discovery suggests we should think of time, and hence order our lives, more holistically. Meanwhile, in our Undercurrents section, Madeleine Bunting reports on new moves to encourage the practice of mindfulness, and Joe Hoare gives practical advice on bringing more joy and laughter into our lives.

2016 brings another very special occasion, too – the 25th anniversary of Britain's 'holistic university': Schumacher College. Jay Griffiths reports on this extraordinary and influential institution, while Stephan Harding profiles one of its intellectual inspirations, the Indian philosopher Rabindranath Tagore.

As always, our arts coverage is broad and inspiring – from Matt Harvey's exercise in crowd-sourced poetry to Adam Feinstein's study of the verse of Pablo Neruda, or the current retrospective exhibition of the artist David Jones. And our book reviews come with a fascinating 'Books of the Year' selection from leading contributors to help you choose your reading for the coming months.

This magazine began life in 1966 with its first editor proclaiming its commitment to address some of the most important issues facing humanity on a small planet – whether that be attaining peace in a world plagued by war, or bringing about social justice and environmental sustainability, through exploring new ways of thinking and living. As we approach our half-century, that commitment remains as strong as ever.

We wish all our readers a peaceful New Year.