The Triumph of Art
Donate Now
Issue 294

Jan/Feb 2016
A Food Renaissance
Web Exclusives
Review
The Triumph of Art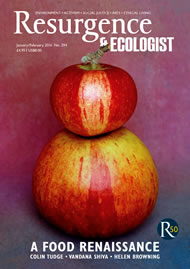 Cover: Cover image: Tessa Traeger www.tessatraeger.com
Peter Abbs welcomes a pioneering study of a landscape painter whose work explodes the presumptions of conceptual art. David Tress by Andrew Lambirth. Studio Publications, 2015. ISBN 9781908486783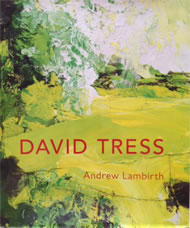 It was in a small gallery in London about 10 years ago that I first became aware of the paintings of David Tress. I remember the work vividly. The images moved between two poles: there were dark charcoal and graphite images of wild moorland swept by wind, and landscapes radiant with colour. The former possessed a spiky energy and resembled, in their improvised ferocity, the last black paintings of Jackson Pollock. The latter were epiphanies of place and light, somewhat in the tradition of Turner but with their own distinctive signature. I was struck by the electricity of the work, the near-violence, the conspicuous beauty.

After observing so much pretentious and vacuous work in the larger London galleries, I found it a liberating experience. From then on I looked out for Tress's work. I began to feel that one artist, at least, had freed himself from the prevailing ideologies by rediscovering and extending a long British tradition, based on the ethic and aesthetic of landscape, stretching from John Sell Cotman to Graham Sutherland and John Piper. So after the avant garde (I thought) there could still be art of a transformative kind.

Andrew Lambirth is an eloquent critic who has a profound sympathy for his subject. His intelligent and wide-ranging study of Tress confirms and deepens all that I had instinctively felt. The artist emerges as a man who has had the courage to step aside, to avoid fads and fashions, to forge his own style. He possesses an almost perverse integrity. In an interview section of the book, Tress reveals that in his youthful reaction to the intellectualisation and commercialisation of art he retired for a time to a small stone cottage and cycled three miles each lonely day to stack shelves at a nearby supermarket. And then later, but with a more positive orientation of mind, he found his alchemical space for reflection and transformation in Pembrokeshire, where he still lives. With a sense of admiration, Lambirth writes: "Strong winds and the changing light of Pembrokeshire are all the stimulus he needs." I am reminded of the reclusive Cézanne living his whole life in Aix-en-Provence.

Lambirth perceptively relates this inner defiance of spirit to Tress's urgent style of painting: the thickness of the paint, the staccato manner of his graphite studies, the torn and jagged edges of much of the work. He writes: "The violence in Tress's method of working is at one level intuitive and at another a deliberate strategy for bypassing civilized behaviour and accessing truth." This is well said, and the emphasis on truth is crucial. Here art is conceived as a quest for understanding the world, a form of theoria. How refreshing!

And this is where the many sublime landscape paintings come in. Tress's work could be named 'eco-expressionism'. For through his own mind and sensibility he seeks to stress the character of the thing seen. In his notebooks, the poet Gerard Manley Hopkins talked about "unpacking" the "gnarls of water" and "lawing out" the "shapes and sequences" of what he saw unfolding before him. The aim of art, as he saw it, was to "instress" the outer object. It was a symbolic act of witnessing.

While Lambirth does not draw on Hopkins, he shows the same understanding. Tress's fine paintings are not so much representations of place, but more like profound transfigurations, revealing both the spirit of place and the spirit of human existence: Nature in dialogue with Being. The author draws on the painter Keith Vaughan to make the point. According to Vaughan, landscape painting at its highest can embody the whole experience of life and offer a key to the mystery of human existence. Nothing less.

A further part of this exploration of landscapes is a recognition of the place of local vernacular buildings. Tress has a lyrical appreciation of the way old buildings – Edgeworth church in Gloucestershire, Thwaite church in Norfolk, Harlech Castle in Wales – come out of their landscapes and, architecturally, reflect their identity, body it forth. But, characteristically, here Tress remains a truth-teller. As he says himself, he is always keen to expose the cement lorries, the blunt traffic signs and the surrounding graffiti. In this respect his paintings of Westminster and St Martin-in-the-Fields in the centre of London are masterly. Instressing, through their exuberant colours and coarse textures, the pure moment of rhapsodic city experience, they explode any notion of nostalgia or traditional piety. The inherited practice of any art has to be constantly tested and extended.

This is the first full study of Tress. It is bursting with detail and insight. It offers both a chronology and a sensitive interpretation of the man and the work. It also includes an interview with the artist, photographs of the main protagonists, poems by the author, and a lavish selection of beautifully reproduced paintings, which, by their very existence, strike a sensuous blow at the parading presumptions of conceptual art. I would urge all art-lovers and lovers of Nature to secure a copy. Its publication, without a single concession to utilitarian cost-cutting, is also a sign of hope.