Climate Campaigners Target Fossil Fuel Industry in Mass Protest
Donate Now
Issue 297

Jul/Aug 2016
Natural Healing
Frontline
Climate Campaigners Target Fossil Fuel Industry in Mass Protest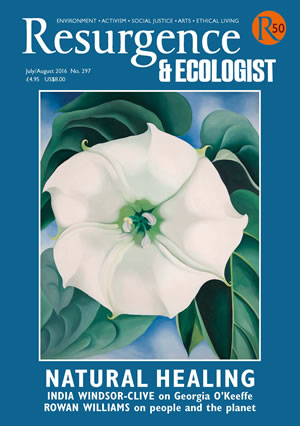 Cover: Jimson Weed/White Flower No.1 1932 by Georgia O'Keeffe. © Georgia O'Keeffe Museum/ DACS, London
UK's largest opencast mine shut by demonstrators, reports Kara Moses.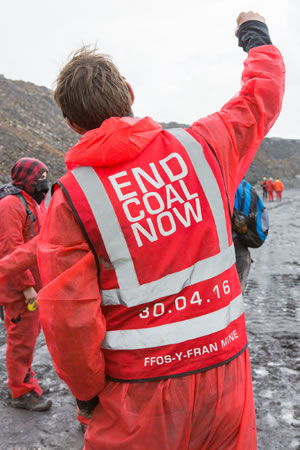 Photograph © Amy Scaife
Climate change protesters staged a wave of mass actions against the fossil fuel industry as Resurgence & Ecologist went to press. The actions, part of the ongoing campaign pledged by the climate justice movement after last December's COP21 climate negotiations in Paris, targeted fossil fuel infrastructure in countries including the Philippines, Nigeria, Brazil, Germany, Australia, India, the US and the UK.

In Wales, hundreds of people shut down the UK's largest opencast coal mine at Ffosy-y-fran near Merthyr Tydfil for 12 hours. The protest was organised by local campaigners and grass roots direct action network Reclaim the Power. A central theme to the protest saw 250 people and banners stretching across the vast mine, symbolising a 'red line' for the planet continued use of fossil fuels would cross.

The mine owners, Miller Argent, recently saw planning permission for an adjacent new mine unanimously rejected by Caerphilly Council after a longstanding local campaign against both the existing and the proposed new mine, but are appealing against the decision.

Kat Richardson from Reclaim the Power said: "New coal mines are totally incompatible with tackling climate change, and after signing the Paris agreement to limit warming to 1.5 °C we need to put words into action and transition to clean, renewable energy. Fossil fuel extraction impacts upon local communities, and burning [fossil fuel] is causing dangerous climate change. This global wave of direct action against fossil fuels shows that there is a growing climate justice movement willing to take the bold action we need when governments fail to do so. We will continue until we win."

Other targets around the world included coal trains, oil refineries, power stations, pipelines and other major fossil fuel infrastructure projects. Reclaim the Power have announced a mass action at London's Heathrow airport in September.

For more information visit: www.breakfree2016.org and www.reclaimthepower.org.uk