Cry for the Earth
Donate Now
Issue 297

Jul/Aug 2016
Natural Healing
Web Exclusives
Review
Cry for the Earth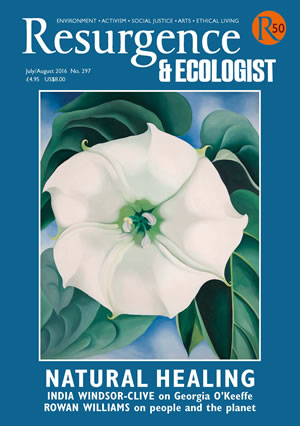 Cover: Jimson Weed/White Flower No.1 1932 by Georgia O'Keeffe. © Georgia O'Keeffe Museum/ DACS, London
Will Gethin reviews Neil Young at London 02 Arena.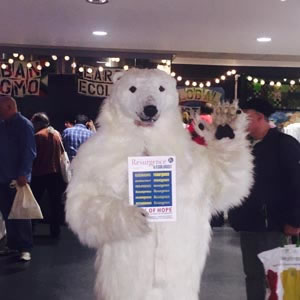 "Oh Mother Earth, with your fields of green,
Once more laid down by the hungry hand,
How long can you give and not receive,
And feed this world ruled by greed."
So sings the silver haired crooner in a black fedora hat, astride an old pump organ. Alone on stage, "EARTH" is emblazoned across his t-shirt.

As he goads melodic wails from his harmonica, figures swathed in white hazmat suits - reminiscent of Star Wars stormtroopers – steal up behind him with pantomime drama, playacting the spraying of pesticides.

Enter a band of youthful musicians who take up position primed before guitars and drums, and the concert rolls into a higher gear...

Welcome to the final UK gig of veteran Canadian rocker Neil Young's Rebel Content tour, which took London's 02 Arena by storm on Saturday 11th June, before continuing across Europe.

Touring to promote his recent anti GM food and agribusiness album The Monsanto Years (and new live album Earth) - a tirade against the multinational agrochemical giant, Monsanto - Neil also voices concerns about pesticides, climate change, global hunger, social justice and endangered species. His latest gigs weave in subtle theatrical infusions of protest amid his habitual electrifying mix of rock, country, folk and glimmering psychedelia.

To amplify his call for a more environmentally conscious world, Neil's tour is accompanied by a Global Village of activists, where before gigs, fans can browse its themed zones - GMOs, Earth Ecology, Energy & Climate, Freedom & Justice, Future of Farming and News You Can Trust – providing opportunity to talk with representatives from green organisations and take away materials, gleaning valuable information about the pressing ecological and social issues facing today's world.

Representing Resurgence & Ecologist in the News You Can Trust zone with Grace Rodgers - alongside Permaculture, Positive News, Peace News and Earth Island Journal – it was exciting to be part of this collective initiative to bring awareness of how our actions affect nature and other living beings. Other green groups in the "village" included Beyond GM, GMO Free USA, Sustain and Global Justice Now.

Kicking off the gig with "After the Goldrush", Neil updated the lyrics to his seminal 1970s track to "Look at Mother Nature on the run in the 21st century" as a couple of makeshift farmers scattered seeds across the stage. Following up with Harvest classics "Heart of Gold" and "Needle and the Damage Done", next came the aforementioned organ-performed "Mother Earth (Natural Anthem)", cueing the arrival of Promise of the Real, Neil's Californian backup band, featuring Willie Nelson's sons Lukas and Micah.

Proffering rich pickings from the 70-year-old musician's varied career - highlights included "Alabama" with its heart-tugging guitar riffs and soaring piano anthems; "Love to Burn", a crashing séance though valleys of screeching guitars and thudding base lines; "Mansion on the Hill" with its psychedelic echoes of 'Peace and Love'; and "Love and Only Love" – which saw Neil and the band rocking at their peak for the final crescendo, four guitarists communed centre stage, playing off each other in a raging blaze of euphoria.

The feast of old classics was deftly punctuated with "Monsanto Years", the title track from the new album, calmly delivered with a fierce warning:
You never know what the future holds in the shallow soil of Monsanto, Monsanto,
The moon is full and the seeds are sown while the farmer toils for Monsanto, Monsanto,
When these seeds rise they're ready for the pesticide,
And Roundup comes and brings the poison tide of Monsanto, Monsanto...
Neil Young's new album Earth is released on 24th June by Warner Bros Records.