Wealth That Really Matters
Donate Now
Issue 302

May/Jun 2017
Real Wealth
Welcome
Wealth That Really Matters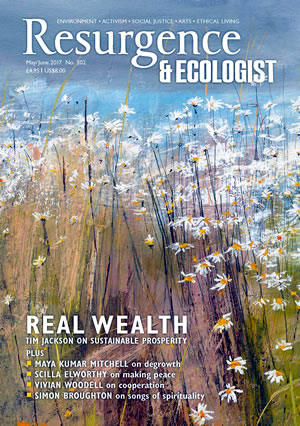 Cover: Cover image: Daisy, Daisy by Tracy Levine www.tracylevine.co.uk
We need a new economics, for people and the planet.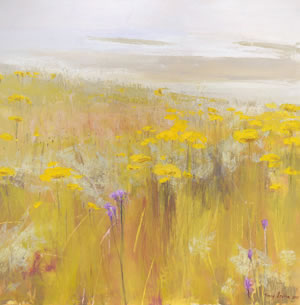 Fields of Gold by Tracy Levine www.tracylevine.co.uk
As this issue of Resurgence & Ecologist was being prepared for the press, Philip Hammond, Britain's chancellor of the exchequer, had just delivered his budget speech. Commentators were poring over the finer points, and the main political parties were trading blows over their essentially similar views of the economy.

It's time to hear other views – views that put people and the planet before the tired, unsustainable economics of neoliberalism and the constant mantras calling for endless "growth". So it's appropriate that in our main Keynotes article in this issue, Tim Jackson, a leading economist, puts forward his ideas for a new type of economics – the economics of sustainable prosperity.

"Questioning growth is deemed to be the act of lunatics, idealists and revolutionaries," Jackson has written, "but question it we must. A return to business as usual is not an option. Prosperity for the few founded on ecological destruction and persistent social injustice is no foundation for a civilised society."

Instead, he says, "Prosperity has vital social and psychological dimensions. To do well is in part about our ability to give and receive love, to enjoy the respect of our peers, to contribute useful work, to feel secure in the face of uncertainty, to have a sense of belonging and trust in our community… The economy of tomorrow must do more than stimulate industrial output and deliver shareholder returns. It must provide the capabilities for people to flourish as human beings – within the limits of a finite planet."

These are some of the aims proclaimed by this magazine ever since Resurgence was founded more than 50 years ago. With the support of such thinkers as Leopold Kohr and Fritz Schumacher, pioneers of the idea that "small is beautiful", we have consistently rejected mindless, competitive consumerism in favour of proposals for a more harmonious society living in balance with Nature.

These ideas flourish across this issue. Jon and David Ehrenfeld put forward the case for low-tech solutions to climate change and other environmental challenges. Vivian Woodell expounds the value of cooperativism. Scilla Elworthy outlines an economics of peace. In an interview with Maya Kumar Mitchell in Barcelona, the radical economist Filka Sekulova advances the case for degrowth.

Elsewhere, in our arts pages, Rod Nelson, one of Britain's fine woodblock engravers, pays tribute to the Japanese master of the craft, Katsushika Hokusai, whose image of the Great Wave is an enduring testimony to the power of Nature. We profile the work of the Brazilian artist Nara Guichon, who creates impressive textiles through recycling the detritus of the fishing industry. And Alice Sharp introduces a new exhibition inspired by our relationship with the sea. We've poetry from Poland, and the winner of the Resurgence Poetry Prize, too.

A wealth of reading, then – and, hopefully, wealth of lasting value.