Making Waves
Donate Now
Issue 302

May/Jun 2017
Real Wealth
Reviews
Making Waves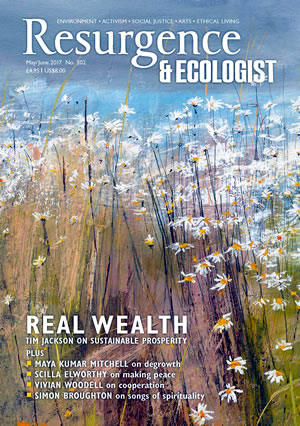 Cover: Cover image: Daisy, Daisy by Tracy Levine www.tracylevine.co.uk
Paul Brown returns to the sea with a Greenpeace skipper. Greenpeace Captain: Bizarre Wanderings on the Rainbow Warrior by Peter Willcox. Sandstone Press, 2017. ISBN: 9781910985526
To be a crew member of a Greenpeace ship you have to be an unusual person. To be captain of their flagship the Rainbow Warrior, you have to be exceptional.

So when Peter Willcox, who has captained Greenpeace ships for nearly 40 years, writes about his experiences, the expectation is that the book will be a thriller.

And Greenpeace Captain does contain a lot of excitement. These are stories from the inside about actions that went well and some that did not, campaigns that succeeded against the odds, and gambles that paid off and some that failed.

All of it is laced with factual background about the campaigns and why Greenpeace undertook them: everything from saving baby seals to opposing nuclear tests.

There is a good explanation of Greenpeace's methods, and the cornerstone of their success, nonviolent direct action, which has drawn attention to so many environment abuses and managed to halt many of them. It is this mixture of courage, determination and restraint that makes the Greenpeace crews different from ordinary people. They endure enormous hardships for their causes and never raise a fist in anger.

Two events in Willcox's career with Greenpeace – one in 1986 and the other in 2013 – stand out. The first was the sinking of the Rainbow Warrior in Auckland harbour by French government agents, killing photographer Fernando Pereira. The second was the arrest and imprisonment of the entire crew of another Greenpeace ship, the Arctic Sunrise, when they attempted to halt drilling for oil in the Arctic. Willcox and the rest of the Arctic 30 spent months in Russian prisons as a result but were eventually released after a worldwide campaign.

They are both extraordinary stories. The first is etched on my memory because Fernando was a friend, and I had left the ship only a couple of weeks before it was bombed. The second illustrates what risks are involved in taking on tyrants, who do not play by the rule of law.

However, having, as a journalist for the Guardian, signed on and sailed on Greenpeace voyages as a crew member, both with Willcox and with other captains, I was disappointed about the seeming lack of insight he shows regarding both his own personality and some of the people he has sailed with.

Although he and his colleagues have deeply rooted convictions, the book does not explore what makes these people tick. The text contains plenty of explanations about why he did what he did, but not much about how he felt.

And although the book is entertaining, there is another regret. My experience is that there is some tension between the shore-based hierarchy that runs Greenpeace, and the crews pitting their wits against whalers, oilmen and rogue governments. The crews are very radical, push themselves beyond normal limits, and are prepared to take risks that head office has not approved.

This has sometimes led to serious squabbles over tactics, occasionally spilling over into sackings. This is not surprising in an organisation that lives so close to the edge, but Willcox steers clear of discussing any of this. Perhaps that is why he continues to serve Greenpeace as a distinguished captain. He knows when to keep his own counsel.

Caroline Lucas, co-leader of the Green Party of England and Wales, is right to say: "Peter Willcox is a hero for our times. He has…put his body on the line to defend our planet. Our fragile environment needs more people like him."