Tides of Thought and Feeling
Donate Now
Issue 302

May/Jun 2017
Real Wealth
Web Exclusives
Review
Tides of Thought and Feeling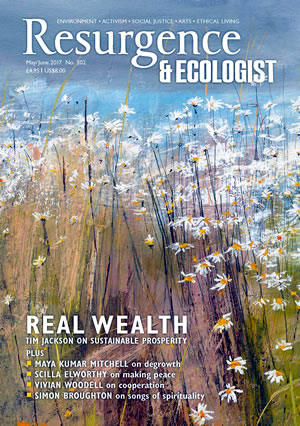 Cover: Cover image: Daisy, Daisy by Tracy Levine www.tracylevine.co.uk
Peter Reason is seduced by prose and poetry of the sea. Driftfish: A Zoomorphic Anthology, edited by Susan Richardson & James Roberts. Zoomorphic, 2016. ISBN: 9780995643604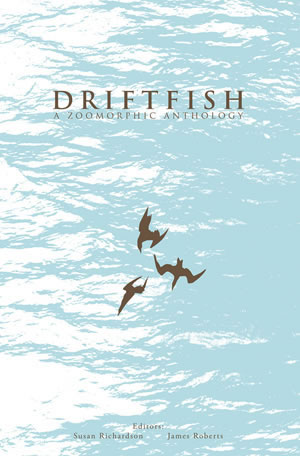 Driftfish is an anthology of poetry, prose and images focused specifically on marine wildlife. It is the first print production of the online magazine Zoomorphic, "dedicated to writing that deepens our connection with wildlife and the more-than-human world". This is a timely contribution, for as the editors note, "in the past half century one in two of the earth's wild creatures has been lost" due to many causes, including habitat erasure and global warming. To defend non-human species, they write, "we must reconnect our imaginations to them."

Driftfish does this admirably. It is a lovely volume to hold in the hand, a substantial paperback with an image of gannets diving into a blue ocean on the cover. Inside are 16 prose pieces and 40 poems, illustrated by etchings of sea creatures. Since so much contemporary Nature writing is taken as an excuse for human memoir, I particularly liked the focus on the creatures themselves, albeit through the eyes of human imagination, without too much intrusion of human stories.

Readers will have their own favourites. Of the prose pieces, I particularly liked Anja Semanco's Standing on Stromatolites, truly ancient creatures whose story takes us right back to the beginnings of life on Earth and the origins of our oxygenated atmosphere. Stephen Rutt's The Pickieterno tells how the breeding terns on North Ronaldsay attack the intruder with beaks and excreta, and reminds us of their 30,000-mile flight each year to the southern ocean and back. Jessica Groenendijk tells of her encounter with manta rays; Daniel Hudon eulogises the lost Chinese paddlefish and Japanese sea lion; James Roberts watches a seal pup suckle at Jack Sound in Pembrokeshire; we learn from Michael Coolen why whales sing in D-flat. But what gripped me most strongly was James Dorsey's Bottom of the Food Chain, his account of delight and alarm as he finds himself and his fragile sea kayak in the middle of a pod of hunting orcas off the coast of British Columbia. His writing is precisely observed, fully present in the moment, unadorned by superfluous metaphor. It was thrilling to read; Nature writing at its very best.

I find poetry takes longer to digest than prose, although some raised an immediate smile in their portrayal of familiar creatures: Mark Totterdell's Shag with its "skew-whiff Mohican"; and Beth McDonough's image of herring gulls' "Irish dance, hard flatfoot / that grass patch" in Flatly. As I revisit the collection to write this review, I realise how many have already lodged in my imagination. There is Kathleen Jones's Whale Fall, awakening my sense of the ocean ecosystem as the carcass sinks into the depths to be devoured and feed new life on the surface. Pippa Little's Hot Vents imagines life at extremities, where "worm forms writhe", evoking creatures we humans can scarcely imagine. D.G. Gets' Marine Theology shows that while the world "scorns" the jellyfish, it is nevertheless a "Mystery" with a "grace / that is peculiar"; in ironic contrast, J.V. Birch celebrates A Jellyfish Affair, in which "your invisible lace lights a fire I can't drown."

One of the attractions of a well-edited anthology is that the reader is engaged with different styles of and perspectives on the common theme. While the prose writing speaks to me directly, the poems lurk in my mind and gradually unfold in my imagination. This contrast gives the whole volume a pleasing sense of wholeness. I look forward to future volumes in this Zoomorphic series.