The Politics of Hope
Donate Now
Issue 303

Jul/Aug 2017
The Pilgrim's Path
Welcome
The Politics of Hope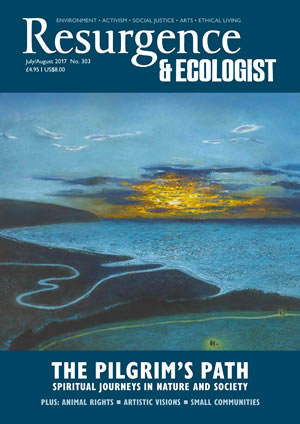 Cover: Painting by Richard Cartwright
We need voices for a sustainable future, nature and social.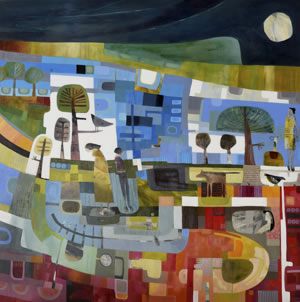 Perennial Letters by Charlie O'Sullivan www.charlieosullivan.co.uk
Britain's general election – still under way as this issue of Resurgence & Ecologist was being produced – saw the predictable mix of party promises, slogans and the ritual trading of insults. Soundbites and fury, you might say, but signalling what?

Has the result set the nation on a course that most readers of this magazine would want, towards a society (and a wider world) valuing peace, social justice and a closer understanding of our relations with Nature? One that moves away from the illusions of the perpetual pursuit of economic growth, globalisation and mass consumerism, and towards a society based on sustainability, a greater respect for localism and the natural environment, and a foundation of more profound, lasting values?

Time will tell, but I suspect the prudent answer would be: don't hold your breath. Of course, the various parties – some more obviously than others – had things to say about environmental issues, or addressing the problems of growing economic inequality, but too often their campaigns seemed simply to reiterate old, tribal rallying cries.

This magazine is published by The Resurgence Trust, a charity, and we are constrained by British charities rules from supporting particular political parties. But in our own way, Resurgence, in each and every issue, is our manifesto.

So, among our candidates for your support, in this issue Hugh Warwick makes the case for the lines in the landscape that mark our impact on the natural world and may help us understand our place in Nature. Carlos Magdalena, an inspiring botanist, encourages us to believe that endangered species – including us? – can still be conserved. Kate Blincoe has a memorable wildlife encounter. Nick Robins reports on how renewable energy is helping revive a community. And Larry Nielsen reminds us of some of the great champions of conservation.

In our Keynotes essay, Kirkpatrick Sale takes a historical perspective to emphasise the resilience of local communities when states and larger institutions fail or suffer crisis. In two complementary Undercurrents articles, Peter Reason and Niki Harré go on pilgrimages at opposite ends of the Earth, respectively affirming the importance of our relations with Nature and with our fellow citizens. Peter Tatchell argues for human and animal rights. And, continuing our campaigning theme, in this issue we hear from Pierre Rabhi – once a putative candidate for the French presidency – on the links between the environment, simple living, spirituality and community resilience.

All this, then, together with some inspiring Arts pages and thoughtful reviews. A manifesto, you might say, of affirmation, beauty and hope. We won't say Vote Resurgence! – but we do hope you enjoy this issue.