I Found the Poems in the Fields
Donate Now
Issue 303

Jul/Aug 2017
The Pilgrim's Path
Regulars
Poetry
I Found the Poems in the Fields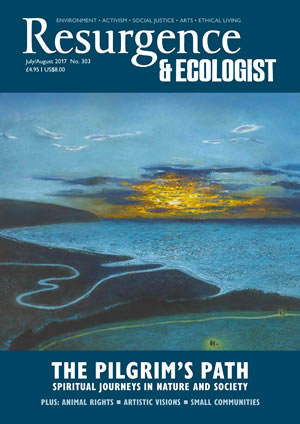 Cover: Painting by Richard Cartwright
Peter Abbs calls for a reassessment of the eco-poetry of John Clare.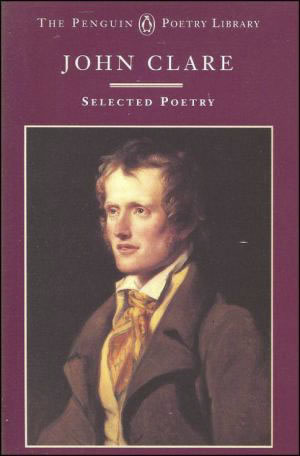 When I lived in Wales, I heard of poets who, while working on remote farms, would rush to a barn wall to scrawl lines that were suddenly streaming through their minds. This image always reminds me of the English poet John Clare, who consistently defined himself as a peasant poet, and whose full significance still waits to be recognised.

Clare was born in 1793 in Helpstone, at the edge of the Lincolnshire fens, near Peterborough. He left school at twelve, did various labouring jobs and began to write poems. With his first volume in 1820 he became, briefly, famous in London; the striking portrait by William Hilton was done at this time. But Clare soon returned to the countryside. His health was worsening; in 1842 he was certified insane and incarcerated in Northampton General Lunatic Asylum, a place he savagely christened "the English Bastille". When he died in 1864 in utter obscurity, his body was taken back to Helpstone and buried in the churchyard. This was a return to his roots, to the place where, as a young man ambling through the fields and scribbling his spontaneous poetry, he had felt most fully himself.

How is one to begin the task of reassessing this, until recently, excluded peasant writer? The first move is to insist on his importance as an English Romantic poet, one who has been shockingly sidelined by dull-witted academics. The reasons for the exclusion are various: his humble background, his dialect language with its quirky spellings, odd coinages and lack of punctuation, his painful isolation from a fitting cultural milieu, and his 'madness': his psychotic episodes, his bipolar nature, his delusions of identity.

Yet none of these things detract from his linguistic genius, the range of his poetic forms, his unerring accuracy of observation, his lyrical knowledge of Nature, and the sheer scale of his work. Over two thousand poems have survived and there are innumerable finished and unfinished pieces of prose. He was a superb naturalist, not only describing, but classifying all he saw in the habitat around his birthplace.

Clare's early poetry emerged from his long solitary excursions into the countryside and from his passionate opposition to the new laws enclosing the land, the relentless draining of the fens, the building of new roads. But it was mostly a lyrical celebration of what he saw. Unlike Blake or Coleridge, he did not transmute what he saw into a symbolic world, but rather witnessed the simple things he encountered. In his poem about the nightingale the bird's nest is evoked with a memorable precision – a fidelity to detail that yet runs with the flow of the narrative.

Clare was committed to the immediate present tense, in which the living self and the natural world became one and indivisible, caught up in an emotional state akin to ecstasy. When he claimed he "found the poems in the fields and only wrote them down", he was being entirely honest. His best poetry records with remarkable precision and moving cadence our common natural world.

During the 1830s, a new element came into Clare's work. His poetry began to express an acute sense of isolation and disenchantment. These poems are not so much ecological as ontological. They define a self that seems to belong nowhere, the immediate pang of an unanchored existence. He felt himself "a dead-man dwelling among shadows". Some of the later poems are all but the antithesis of the earlier work and strangely anticipate the existentialists, the writing of Nietzsche and Kierkegaard, of Sartre and Camus.

To his son Charles on 8 July 1850, Clare wrote: "I have nothing to write about for I see Nothing and hear nothing." And in this distressed state of alienation, he began to foresee human disasters on a cosmic scale: cities under the sea, ruins stretching beneath the burning sun, a depth of darkness never spanned. These terrors also seem prophetic, as each day we watch our biosphere become ever more precarious.

Now is the moment to place Clare back inside the literary circle where he belongs, with Blake, Coleridge, Wordsworth, Keats, Shelley and Byron. He is the seventh poet of the English Romantic revolution. More important, he has the most urgent things to tell us.
SONNET
I feel I am, I only know I am
And plod upon the earth as dull and void
Earth's prison chilled my body with its dram
Of dullness, and my soaring thoughts destroyed.
I fled to solitudes from passion's dream
But strife persued – I only know I am.
I was a being created in the race
Of men disdaining bounds of place and time –
A spirit that could travel o'er the space
Of earth and heaven – like a thought sublime,
Tracing creation, like my maker, free –
A soul unshackled like eternity,
Spurning earth's vain and soul-debasing thrall
But now I only know I am – that's all.
I AM
I am – yet what I am, none cares or knows;
My friends forsake me like a memory lost:
I am the self-consumer of my woes –
They rise and vanish in oblivion's host
Like shadows in love-frenzied stifled throes
And yet I am, and live – like vapours tost
Into the nothingness of scorn and noise,
Into the living sea of waking dreams,
Where there is neither sense of life or joys,
But the vast shipwreck of my life's esteems;
Even the dearest that I love the best
Are strange – nay, rather, stranger than the rest.
I long for scenes where man hath never trod
A place where woman never smiled or wept
There to abide with my Creator, God,
And sleep as I in childhood sweetly slept,
Untroubling and untroubled where I lie
The grass below – above, the vaulted sky.
From THE NIGHTINGALES NEST
How curious is the nest no other bird
Uses such loose materials or weaves
Their dwellings in such spots – dead oaken leaves
Are placed without and velvet moss within
And little scraps of grass – and scant and spare
Of what seems scarce materials, down and hair
For from man's haunts she seemeth nought to win
Yet nature is the builder and contrives
Homes for her childern's comfort even here
Where solitude's deciples spend their lives
Unseen save when a wanderer passes near
That loves such pleasant places – Deep adown
The nest is made an hermit's mossy cell
Snug lies her curious eggs in number five
Of deadened green or rather olive brown
And the old prickly thorn bush guards them well
And here we'll leave them still unknown to wrong
As the old woodland's legacy of song
SUMMER MOODS
I love at eventide to walk alone
Down narrow lanes o'erhung with dewy thorn
Where, from the long grass underneath, the snail
Jet-black creeps out and sprouts his timid horn
I love to muse o'er meadows newly mown
Where withering grass perfumes the sultry air
Where bees search round with sad and weary drone
In vain for flowers that bloomed but newly there
While in the juicey corn the hidden quail
Cries 'wet my foot' and, hid as thoughts unborn,
The fairy-like and seldom-seen land-rail
Utters 'craik craik' like voices underground
Right glad to meet the evening's dewy veil
And see the light fade into glooms around
All these poems have been taken from John Clare: Selected Poems, edited by Geoffrey Summerfield, Penguin Books. Please note that the spelling and punctuation remain those of the poet.