On the Dark Side of the Land
Donate Now
Issue 303

Jul/Aug 2017
The Pilgrim's Path
Reviews
On the Dark Side of the Land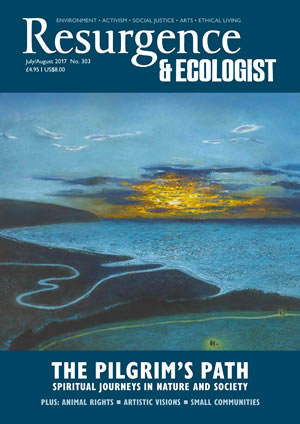 Cover: Painting by Richard Cartwright
Francis Beckett explores the life of a farmer and fascist. Farming, Fascism and Ecology: A Life of Jorian Jenks by Philip M. Coupland. Routledge, 2017. ISBN: 9781138688629
Jorian Jenks's first love was farming. Born in Oxford in 1899, he farmed briefly in New Zealand and Canada but lacked the capital that would have bought him his own farm in Britain. Yet he wrote extensively about farming, and after the second world war he was a pioneer of the organic movement and editor of the Soil Association's magazine.

There was another side to Jenks, however. In the 1930s he joined Oswald Mosley's British Union of Fascists. Though never one of its leaders, he was sufficiently prominent to be interned in 1940, along with 1,000 or so others, under Defence Regulation 18B. After the war he kept up his links with Mosley's organisation.

Jenks, who died in 1963, was ultimately a minor player in the history of fascism and of ecology in Britain, and Philip Coupland's affectionate, detailed, scholarly, exhaustive account of his life does not convince me that Jenks was sufficiently important to merit all the hard work that went into the book. Sometimes Coupland's very thoroughness undoes him, as he descends almost into self-parody, devoting (for example) several paragraphs to analysing Jenks's youthful (and clearly not very good) poetry, collected, we are told, "in a slim volume entitled simply Poems".

"The volume", explains Coupland, "was intended for private circulation. Its contents suggest a young man seeking to find himself on the page, the poetic form giving licence to reveal feelings and preoccupations…"

Still, despite getting bogged down in the detail of his subject's life, Coupland manages also to analyse that intellectual ground which some claim that the far right and ecologists have in common, in England at any rate: a sentimental and at times bombastic attachment to the soil of old England.

That's the ground claimed by Jenks, by traditional reactionary landholders like the late Viscount Lymington, later Earl of Portsmouth, and by organisations whose titles often betray their extreme nuttiness, like the English Mistery and the English Array, which married a 'back to the land' philosophy with support for Hitler, racism and, specifically, antisemitism. Even in this arcane corner of English political thought, Jenks was never more than a bit player.

I should, at this point, declare an interest. Coupland's book is published in a series from Routledge titled Fascism and the Far Right, which also includes my book about my father, Fascist in the Family. John Beckett's father's family were Cheshire farmers, and until the day he died in 1964 my father would speak with pride of his "yeoman ancestors". (He never mentioned the Jewish ones, his mother's ancestors; I only found out about them decades after his death.) Jenks and my father may well have known each other, and spoken together of the yeomen of old England over a pint of good English ale. And right at the start of Coupland's book, another farmer, Robert Saunders, also a fascist, says Jenks "looked what he had indeed been: a typical Yeoman farmer".

How easily the romantic attachment to the yeomen of old England can turn into bitter nationalism! Yet these were also men who understood the land, and how we could destroy its fertility unless we treat it with care and respect.

Jorian Jenks – though Coupland makes much of his relative poverty – had the best education money could buy, at Haileybury (the public school that also produced Clement Attlee) and at Balliol College, Oxford. He came from the upper middle classes, and had their nationalism – joining the British Union of Fascists, he called for "a straightforward policy of national regeneration, with 'Britain first' as its watchword" – as well as their languid antisemitism.

The rolling English hills that loom over G.K. Chesterton's rolling English road and house the rolling English yeoman hide some thoroughly nasty things. But while the right can lay claim to some ecological and environmental campaigners, so can the left, probably in greater numbers. The politics of most environmentalists today are about as far from those of Jenks, Lymington and English Mistery as it's possible to get.