We Can Be Heroes
Donate Now
Issue 304

Sep/Oct 2017
Together We Are Stronger
Welcome
We Can Be Heroes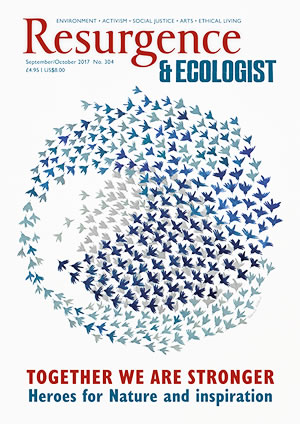 Cover: Illustration by Valériane Leblond www.valeriane-leblond.eu
Issue availability
Ordinary people, extraordinary stories. All are inspirational.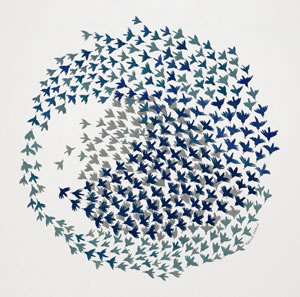 Adar Troellog by Valériane Leblond www.valeriane-leblond.eu
The political outlook may seem gloomy, and we are all aware of the threats to our environment and the challenges of obtaining social justice, but inspiration shines through this issue of Resurgence & Ecologist. Reading through the various articles we've assembled leaves us with admiration and hope.

In our last issue, inspired by Larry Nielsen's profiles of eight prominent conservationists, we asked: who would you nominate as your Heroes for Nature? Your answers have ranged widely – from Octavia Hill, the Victorian campaigner who became one of the founders of the National Trust, to Wangari Maathai, the Kenyan activist who launched the Green Belt tree-planting movement in Kenya (also one of Larry Nielsen's choices), to Berta Cáceres, the Indigenous peoples' rights campaigner assassinated in Honduras last year. Inspirational figures all.

But it is not only those who achieve national or international recognition who inspire us. Photographer Walter Lewis has spent nearly a year documenting some of the many people who are devoting time and energy to cultivating mostly small plots in ways that provide food for local communities while restoring the land. In inner cities, recently derelict land is now producing food, bringing communities together and offering alternatives to the destructive, ever-lengthening chains of global agro-industry.

Elsewhere, we meet James Thornton, one of the lawyers opening new fronts against governments who fail to enforce environmental laws. And in an exclusive interview, Ogyen Trinley Dorje, one of Tibetan Buddhism's senior figures, talks about the environmental initiatives his spiritual beliefs have inspired.

Nor is inspiration limited to environmental issues. In our arts pages, for example, Rogan Wolf tells of his scheme to bring inspiring, consoling poetry to some of our society's loneliest places. In our reviews section, Jonathon Porritt finds the writings of Kirkpatrick Sale on the worth of small and decentralised communities reinvigorating. And Kate Raworth calls for a new economics that is both socially just and environmentally sustainable.

A Guardian columnist recently opined that individuals can make little difference to environmental issues simply by changing their behaviour. On the contrary, it is only when we do so that we stand a chance of bringing about the change required if we are to have a socially just, environmentally sustainable world.

We hope you enjoy this issue of Resurgence & Ecologist and are inspired to action.