Future Plans for Resurgence
Donate Now
Issue 304

Sep/Oct 2017
Together We Are Stronger
Frontline
Future Plans for Resurgence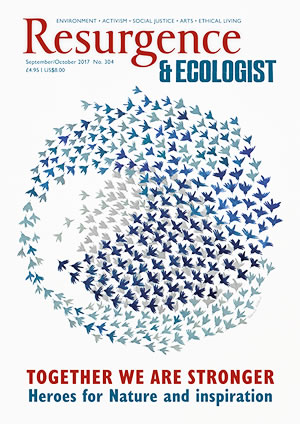 Cover: Illustration by Valériane Leblond www.valeriane-leblond.eu
Issue availability
A new chapter is set to open in the Resurgence story.
The Resurgence Trust is hoping to move its offices to new premises in the Devon village of Hartland, and is launching a fundraising drive to make the move and an expanded range of activities possible.

This magazine has been produced in farm cottage buildings on the edge of Hartland since 1979, when Satish Kumar, our former editor, moved there from Wales with his family. Three years later, Satish, a group of villagers and others founded The Small School to show that local secondary education could be provided on a small-scale, community-based model. The school made its home in a former Methodist chapel, with adjacent cottages and gardens, and over the next three decades drew plaudits for its approach.

Now, after 35 years, The Small School is closing, due to local demographic and other trends. The Resurgence Trust, which rents its pres­ent – and increasingly cramped – offices, is hoping to move to the site.

The vision is to create a new, permanent home for The Resurgence Trust, this magazine and our other activities. At the same time, the move will create facilities that will not only serve the local community and wider region, but also become a centre for the study of those subjects the Trust was set up to further – the environment, social justice, ethical living, spirituality and the arts.

Satish, who stood down as editor-in-chief of The Resurgence Trust last year on his 80th birthday, said: "The Small School has set an example of holistic education where sustainability, spirituality and the place of the imagination are as important as academic and intellectual learning. Now my dream is to find a home for Resurgence. In the current climate, its work is even more urgently needed."

Resurgence magazine was founded in 1966 by John Papworth, a radical campaigner for peace and civil rights, at the head of a group of writers, thinkers and artists, including Leopold Kohr and E.F. Schumacher, responsible for the "small is beautiful" ideas that continue to inform the magazine's outlook. It has been described by the Guardian as the "spiritual and artistic flagship of the environmental movement".

The Resurgence Trust was established as an educational charity in 2006. Today, in addition to publishing this magazine and the Ecologist website – which attracts more than 130,000 visitors a month – the Trust organises our annual Festival of Wellbeing and the Resurgence Summer Camp, as well as other ventures. Details of the fund­raising campaign will be published as soon as possible: www.resurgence.org
NEW FACES

Marianne Brown has joined Resurgence & Ecologist as Deputy Editor of the magazine. She previously worked for several British newspapers and as a foreign correspondent based in Vietnam, as well as for an animal welfare charity. Brendan Montague has been appointed Contributing Editor for the Ecologist website. He has also worked for several newspapers and in the charity sector.

NEW LOOK FOR ECOLOGIST WEBSITE

The Ecologist website (www.theecologist.org) is getting a new look, after being completely rebuilt. Inherited by The Resurgence Trust in 2012, it carries thousands of articles on environmental topics, and new articles are added every day, including in depth news reports.
FESTIVAL DATE

As this issue went to press, tickets remained on sale for this year's Resurgence Festival of Wellbeing, which will be held on 23 September at St James's Church, Piccadilly, London. Speakers include Siân Berry of the Green Party, Paula Byrne, author and chief executive of ReLit, the charity for literature and mental health, Imtiaz Dharker, poet and artist, and Tim Jackson, Professor of Sustainable Development at the University of Surrey.

For tickets and programme details: www.resurgence.org/wellbeing
TALKS RESUME

The Resurgence Talks series resumes in September, after a summer break. The talks, in collaboration with 42 Acres, take place at 7pm at 42 Acres Shoreditch, 66 Leonard Street, London EC2A 4LW.

On 27 September, the artist Susan Derges will talk about "Art Inspired by Nature". On 25 October, "Save Our Soil" is the plea of Helen Browning, chief executive of the Soil Association. On 22 November, social entrepreneur Jeremy Leggett will talk on "The Solar Civilisation, Renaissance and New Despotism".

HELP US AT LORD'S

Would you like to be part of the volunteer team at The Resurgence Trust's annual fundraising dinner and auction at Lord's Cricket Ground, London on 29 November? Responsibilities will include placing art on boards, setting up the venue and being a table spotter in the live auction. Contact Sharon Garfinkel for more information:

Email: sharon@resurgence.org
CBE FOR TRUSTEE

Tony Juniper, a member of The Resurgence Trust's Board of Trustees, has been appointed a CBE in the Queen's Birthday Honours List for his services to conservation.