Sun Shines on the Resurgence Camp
Issue 304
September/October 2017
Together We Are Stronger
Frontline
Sun Shines on the Resurgence Camp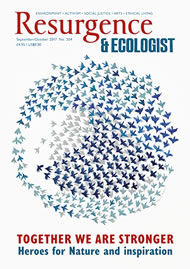 Cover: Illustration by Valériane Leblond www.valeriane-leblond.eu
Issue availability
Malc Sellars sends a postcard from our renowned off-grid event.
When I returned to Green & Away this July for the fourth time at a Resurgence Summer Camp – which itself was back, after a break last year – it seemed more like a home from home. The facilities have changed a little, but I was soon surrounded by familiar faces. Resurgence staff check you in with the mother of all smiles – and even people you barely know welcome you with open arms.

Satish Kumar drifted from person to person like an industrious bee in a sea of organic clover, before settling down to deliver his evening talk – warm and inspirational as ever.

We were all mesmerised by the marvellous Matt Harvey's jovial poetry rendition… "If love can build a bridge, can affection put up a shelf?" which resonated with me more than a session of Milton, while Matthew Shaw (from the Lush soaps and cosmetics company) demonstrated that business conducted as if people, the planet and animals matter can be a fine thing.

Over the course of the camp we were treated to several other speakers of note, all with important messages and moving tales to tell, while at intervals, at the sound of a bell, a feast of vegetarian food magically appeared, gluten- and cellophane-free, to be slowly consumed in the sunshine as people discussed the day's events.

The showers are really a work of artistic engineering. The bliss of bathing amongst the scent of trees, accompanied by the sound of birdsong! On my exit, I was met by the enigmatic smile and enviable hairstyle of Resurgence & Ecologist diarist Leo Johnson, who was enthusiastically waiting his turn in the queue.

On the Saturday morning we occupied front-row straw bales for Leo's talk, "Badly Chopped Wood" – a good hour of fascinating facts, from artificial intelligence and quantum computing to the health benefits of wooden spoon whittling and creating undrinkable wine, all seamlessly interspersed with side-splitting humour and audience participation.

I took the opportunity to explore the surrounding area. The Green & Away site is set amidst natural woodland meadows with a view of the distant Malvern Hills. Adjacent is a me­andering river frequented by kingfishers where I joined several other Summer Campers in a refreshing swim. And there was still time for a drink and attempt at dancing to the multi-talented Zimbabwean/folk vibes of Ombiviolum to end a perfect day.

Sunday's programme continued with yet more thought-provoking talks until the afternoon, when we gathered in the circle around the fireplace on the village green to share experiences and say our farewells.

My thoughts echoed just about every­one else's, but the total freedom that this environmental oasis provides – refreshing your faith in human nature – meant everything to me. No egos, no logos, no trivial TV – bliss!

Another Summer Camp over, and sadly time to leave. I paused before passing through the gate back into the 'real world', thinking for a moment, "This is going to be difficult."

Next year's summer camp will take place from 29th June - 1st July 2018.