Religion, Rights and Realpolitik
Donate Now
Issue 304

Sep/Oct 2017
Together We Are Stronger
Undercurrents
Religion, Rights and Realpolitik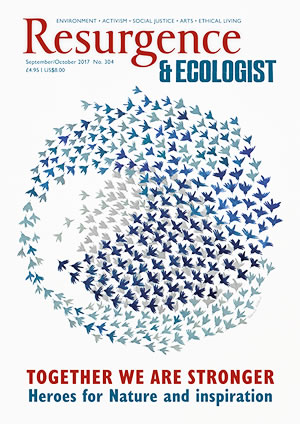 Cover: Illustration by Valériane Leblond www.valeriane-leblond.eu
Buddhist precepts are coming up against the realities of power in Myanmar, Peter Popham says.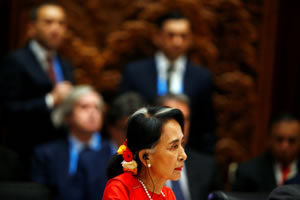 Aung San Suu Kyi attends a summit at the Belt and Road Forum in Beijing, China, May 2017 © REUTERS / Thomas Peter
In the Sep/Oct 2017 issue of Resurgence & Ecologist, Ogyen Trinley Dorje, the 17th Karmapa of Tibetan Buddhism, speaks eloquently of the spread of human rights over the past century and how it has become a "universal idea" today. It's true that in many parts of the world human rights are widely respected and enjoyed. And one world-famous champion of human rights, Aung San Suu Kyi, used her vigorous campaign for rights as a bridge to political power in Myanmar (Burma), where she is now State Counsellor and de facto ruler.

Yet Suu Kyi's trajectory shows how slippery human rights become when it is the task of mere humans to preserve and protect them.

Myanmar is one of the most devout countries on Earth, with a population that is more than 90% Buddhist – its devotion to the Buddha Dharma rivals even that of Tibet before the Chinese invasion. Suu Kyi herself was raised as a Buddhist and adopted a daily meditation practice shortly before she was put under house arrest in 1990. She still practises every morning, and has spoken of the importance of meditation in keeping her calm.

In a newspaper article she wrote, "Like many of my Buddhist colleagues, I decided to put my time under detention to good use by practicing meditation … Once you have discovered the joys of meditation … you do tend to spend longer periods at it." And she makes the link between spiritual and political progress explicit. "We want a better democracy … with compassion and loving-kindness," she has said. "Values like love and compassion should be part of politics."

It was through statements like this, as well as her stubborn defiance of military tyranny, that Suu Kyi became celebrated everywhere as a champion of human rights. Yet in the eyes of many in the West, her short time in power – little over a year – has shredded that reputation.

Human rights are indivisible. But in Myanmar repeated attacks on the Muslim minority have drawn little condemnation from most Buddhists. And the sufferings of the stateless Rohingya community in the far western state of Arakan, tens of thousands of whom were driven out of the country after an attack on border posts cost the lives of several guards, has failed to move the 1991 Nobel Peace Prize-winner. "I don't think there is ethnic cleansing going on," she told the BBC recently. "Ethnic cleansing is too strong an expression for what is happening."

Does State Counsellor Suu Kyi have no compassion for these Muslims who have been living in Myanmar, with ever-dwindling human rights, for generations?

I can think of two possible explanations for her statement, and both tell us a lot about the difficulty politicians find in putting compassion into practice.

One is that perhaps she has adopted the anti-Muslim prejudice that is very widespread in the country: Burmese Buddhist teachers blame Islam for the destruction of Buddhism in its birthplace, India, and see it as a force that menaces the survival of Buddhism everywhere. Existentially, Muslims are seen as the enemy.

But even if in her heart Suu Kyi feels as warmly towards Muslims as she (presumably) did as a student at Oxford, where her first boyfriend was a Pakistani, she wields power in Myanmar on the sufferance of the military, which retains monopoly control of home, defence and border affairs. Even if she deplores the army's treatment of the Rohingya, there is nothing she can do about it. She merely takes the flak.