A Shockwave For Our Screens
Issue 304
September/October 2017
Together We Are Stronger
The Arts
A Shockwave For Our Screens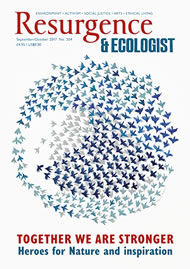 Cover: Illustration by Valériane Leblond www.valeriane-leblond.eu
Issue availability
The film A Plastic Ocean has helped raise awareness of the extent of pollution in the seas. James P. Graham assesses its significance. A Plastic Ocean, Directed by Craig Leeson. Brainstorm Media, 2016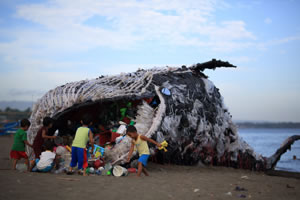 An art installation in Naic, Cavite by environmental group Greenpeace Philippines. Photograph © Greenpeace
If you haven't yet seen it, and you expect A Plastic Ocean to be just another environmental documentary, think again. This is an adventure film that transports us to some of the remotest corners of the Earth, where we discover the underbelly of humanity's detritus – the stuff of nightmares – our plastic addiction.

The two main protagonists, Craig Leeson and Tanya Streeter, who are both connected to the marine world, recount this alarming story with compelling honesty, authority and conviction.

While he was directing a documentary on the elusive blue whale, Leeson discovered plastic waste in what should have been pristine ocean. This changed his quest completely as he resolved to expose and highlight the alarming truths about plastic pollution.

Streeter is a former world champion free diver turned environmental activist. She provides the human perspective, showing genuine compassion when, for instance, she encounters islanders from Tuvalu in the South Pacific whose home has been transformed into a rubbish dump.

During a four-year odyssey, the team was transported to 20 locations around the world, exploring the fragile state of our oceans using state-of-the-art equipment, and revealing the effects of plastic pollution on marine ecosystems and human health.

The presenting style is very human and precise, appealing to all ages and knowledge levels. It is shocking to see the large and numerous pieces of plastic found inside seabirds and fish, and I was particularly alarmed by some of the film's revelations, such as "the number of plankton outnumbers microparticles of plastic by just one to two."

The message is a plea to help reverse the tide of destruction. How? The film suggests following the three Rs: refuse single-use plastics, reuse the plastic we already have, and recycle whenever we can. It also suggests more investment in pyrolysis, a chemical reaction that breaks down plastic into fuel, first used by the US military for disposing of plastic waste on aircraft carriers.

A Plastic Ocean has gained inter­national acclaim, with screenings from Malta to Malibu, including a presen­tation at the United Nations in June this year as part of a special conference on the oceans. It has released a wave of local initiatives aimed at cleaning up our seas: in Middletown, Rhode Island, USA, for example, supporters of a successful bid to ban plastic bags were influenced by the film. The Plastic Oceans Foundation, which funded A Plastic Ocean, has helped set up the grassroots organisation A Plastic Planet, which is lobbying supermarket firms to persuade them to introduce plastic-free aisles in their stores.

As in most environmental films, the present is portrayed as very bleak, and the future depends on the ability of humanity to change, something that, time and time again, we have proved incapable of doing. In that sense a film can only go so far in its reach, pointing out the facts and suggesting solutions, all of which A Plastic Ocean does with creditable effect. At the end of the day, it's up to us.

For more information visit: www.plasticoceans.org