Light in Dark Days
Donate Now
Issue 305

Nov/Dec 2017
Light in Dark Days
Welcome
Light in Dark Days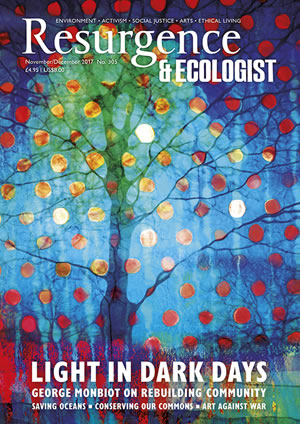 Cover: Autumn Leaves in the Windstorm by Tara Turner www.tara-turner.pixels.com
The human spirit and the natural world still give us hope.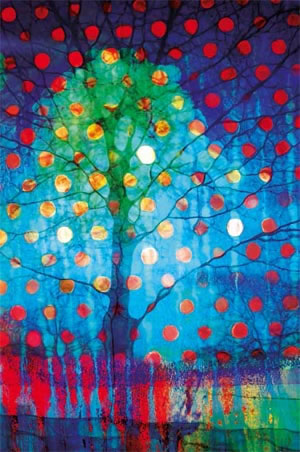 Autumn Leaves in the Windstorm by Tara Turner www.tara-turner.pixels.com
Have we learnt nothing? You might well ask. Half a century ago, this magazine was launched to add the distinctive voice of Resurgence to the calls for peace amid the threats of the cold war and – among other things – a more enlightened attitude towards our societies, our politics and our natural environment. Half a century on, war still claims lives, and the possibility of nuclear conflict again threatens the planet. As North Korea fires ballistic missiles over neighbouring states, a US president responds with talk of "fire and fury". Social and economic divisions remain. The climate crisis worsens, and our pressure on the natural world grows daily.

It would be easy to conclude that we are living in ever darker days. But, as we hope this issue of Resurgence & Ecologist demonstrates, there are reasons for optimism. However much we stumble in our efforts to renew our institutions and reform our world, there is a resilience in the human spirit to encourage us, and there is still reason to rejoice in Nature.

That human spirit informs George Monbiot's Keynote essay, calling for a new, ecologically informed society to help heal divided communities and individuals. It resides in the concept of the commons – the world we can share – as Robin Le Mare, in his essay on the economist Elinor Ostrom, and Bradley Garrett, in his report on the threat to public spaces, remind us. It shines through the testament of Liu Xiaobo, the Chinese civil rights campaigner and Nobel Peace Prize-winner who, while facing imprisonment, proclaimed: "I have no enemies, and no hatred." Liu died earlier this year after more than a decade in jail. His testament, reprinted in this issue, makes for remarkable reading.

In our arts pages, we feature the work of two very different artists. Tammaz Azzam left his homeland with his family to escape Syria's civil war. Since then, in exile, he forges memorable images to remind us of the continuing conflict. Meanwhile, in Mozambique, a country still labouring under war's legacy, artists such as Gonçalo Mabunda and his colleagues at the Núcleo de Arte are turning the detritus of war into artistic and political expression. Not quite swords into ploughshares, but examples of unquenchable human spirit.

We draw strength from such stories, just as the Scottish writer Nan Shepherd – profiled in this issue – drew inspiration from the Highlands, the Japanese ceramicists Miwa Kazuhiko and Ken Mihara fashion beauty from raw clay, and Sarah Corbett and her fellow activists find renewal and a quiet energy in their craftivism. With all this and much more, we hope it all makes for... resurgence.