A Touch of Winter in August
Donate Now
Issue 305

Nov/Dec 2017
Light in Dark Days
Reviews
A Touch of Winter in August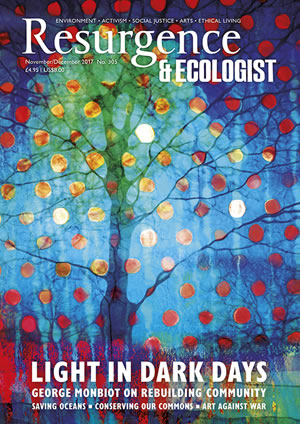 Cover: Autumn Leaves in the Windstorm by Tara Turner www.tara-turner.pixels.com
Marianne Brown reflects on a spiritual journey to the Highlands of Scotland. Among the Summer Snows by Christopher Nicholson. September Publishing, 2017. ISBN: 9781910463604
"Something about the business of walking, of gaining height, of negotiating uneven ground, something about the rhythm of walking, opens up my mind in an unusual way. This doesn't happen on an ordinary walk, not to the same degree; the fact of the snow is critical."

For Christopher Nicholson, summer snow – those isolated patches that survive the spring melt and last into summer or beyond – is more than just an anomalous streak of white on a mountainside in warm Scottish sunshine. It is a source of beauty and wonder, a window out of the confines of self. In a bid to capture the essence of this, Nicholson spent one August walking in the Highlands of Scotland searching for the last surviving snow beds. The intention was to rediscover a sense of delight in the landscape he had nurtured in childhood, later marred by the loss of his wife.

The resulting book, Among the Summer Snows, like the snow itself, has many layers. It is a meditation on Nature, mortality and the sublime, a tug-of-war between reason and imagination, and a series of cultural and scientific observations. It is Nicholson's first work of Nature writing and non-fiction.

For someone like me who grew up with summer snow and did not begin this book with romantic visions of it, Nicholson's childlike wonder is endearing. He writes: "Touching the snow, licking and eating it, clambering over it, sitting on it, are ways of engaging with the sheer surprise that attends its existence." Surrounded by the snow, he gives himself up to his imagination, opening his mind to the suggestions of the shapes of the drifts and the movement of light and shadow. This is when his writing is most compelling. He sees the snow as a living entity, even considering at one point whether it would mind if he stepped on it.

Sadly, these episodes are inevitably dampened by an intruding voice of reason, which leads him to deconstruct his most imaginative musings when they are in full flight. The idea that the snow beds are alive, for example, is rationalised thus: "True, they are not alive in the way that a tree or fish or an insect is alive – they are not capable of reproduction for instance – yet they regulate their own internal temperature and adjust to external stimuli."

Interweaving the author's own experiences are the accounts of others, past and present, from fellow walkers out to bag some Munros, to the survivor of an avalanche, to a local ecologist who conducts a survey of snow in the Highlands. Some of these are wonderfully informative. Who knew, for example, that following a centuries-old custom, a clan chief kept some summer snow in the freezer to give to the visiting Queen Elizabeth II in case she asked for it?

There is also, of course, the startling absence of any mention of Nan Shepherd, the Nature writer whose spiritual footsteps he was following along the mountainside, apparently unwittingly. This could be, perhaps, an example of the defensible ignorance of Shepherd's work.

Despite this, I couldn't help being caught up in Nicholson's spiritual journey. One of the most poignant chapters in the book is when Nicholson steps back from the panoramic to focus on the colour and texture of wild flowers growing on the edges of snow beds. He reveals that his late wife was a botanical artist. This revelation adds a bitter sweetness to the scene that is hard to resist.

"She used to say that the harder you look, the more you see, and the more you see, the more you feel about what you see," he writes. Next time I see summer snow, I will do just that.