Stop Funding Hate
Donate Now
Issue 306

Jan/Feb 2018
The Way of the Garden
Frontline
Stop Funding Hate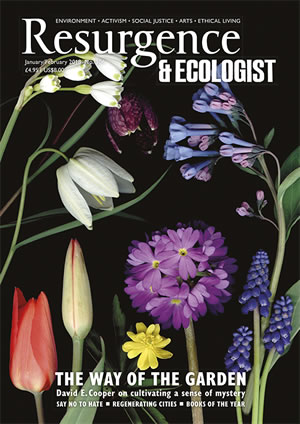 Cover: Bloom Day Scan © Craig Cramer, http://ellishollow.remarc.com
Marianne Brown meets a campaigner who is trying to persuade companies not to advertise alongside racist, sexist or other discriminatory media articles.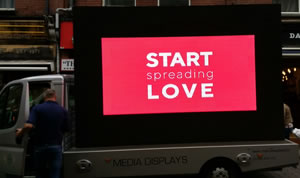 Image courtesy of stopfundinghate.org
This time last year, as manufacturers and retailers cranked up their seasonal bombardment of advertising in time for Christmas, a video made by a group of volunteers calling themselves Stop Funding Hate was being shared on social media. Produced in an emotional style similar to many festive adverts, the video began: "This is not a Christmas advert, but it is about them."

In the video, slow-motion scenes of happy people receiving presents were intercut with vitriolic headlines from sections of the tabloid press. The message: the millions of pounds spent on gifts are used by companies to buy advertising that appears alongside what the campaigners say are often racist, sexist and hate-filled articles in the media.

Soon the video had received over 3 million views. A few days later, Lego announced that it was no longer going to advertise its products in the Daily Mail, and The Body Shop followed suit. It was the first of many successes for the group. Last June it ran a successful crowdfunding campaign, which raised over £100,000 to pay for full-time staff and research, and in October the group won The Jo Cox Award – named after the Labour MP murdered by a far-right extremist just before the Brexit referendum – at the National No2H8 Crime Awards 2017 event.

"We aren't targeting any papers because of their political perspective," Richard Wilson, co-founder of Stop Funding Hate told Resurgence &Ecologist. "We're targeting the three papers that incite hatred and practise systematic discrimination and have been called out by the UN as a consequence.

"We know that many prominent Conservatives have spoken out about the abusive behaviour of the Daily Mail – this is an issue of right and wrong, not right and left."

Wilson started the campaign with a group of friends in the summer of 2016, moved by an upsurge in hate crime, which they felt was connected to negative headlines about migrants in the media. "It felt like it was getting more intense," he says. "Even when the hate crimes became widely talked about, the papers didn't stop doing it. So we thought, what's it going to take to give a wake-up call?" So they decided to target the newspapers' advertising revenue.

With declining print sales, readers expecting more content to be provided for free online, and fewer people paying for subscriptions, many media organisations have started to publish provocative 'clickbait' articles to attract people to their websites. The more hits a page receives, the more companies will want to pay to advertise on it.

"There's a really odd phenomenon going on where there's a particular type of commentator who only exists because they say things that are going to get decent people angry. They thrive on the anger and disapproval," Wilson says. "That in turn drives advertising revenue. It's a system that's developed where very negative stuff sells, and it's the technology that drives that more and more."

Through over 200,000 supporters on Facebook and nearly 80,000 on Twitter, Stop Funding Hate encourages people to take screenshots of discriminatory articles in The Sun, MailOnline and the Daily Express, and tag the companies whose adverts appear alongside the articles. "It's relatively easy for companies to pull their advertising online," Wilson says. "The way online advertising works is that usually the system will just route around it; if you blacklist the Mail, for example, the system will find the same audience through different sites."

Although the person taking the screenshot provides a 'view' for that website, the impact of an advertiser blocking the site from its ad programme will typically be much larger, especially over the longer term, Wilson says.

In one recent success, Derby University announced it would block adverts appearing on MailOnline after a Stop Funding Hate supporter pointed out that its branding was appearing alongside an article belittling the recent allegations of sexual harassment and abuse at Westminster.

The group shares these successful tactics with other like-minded organisations across the world. One of these, the US-based group Sleeping Giants, has prompted nearly 3,500 advertisers to withdraw from the right-wing news site Breitbart.

Christmas 2017 looked set to be just as busy when this issue of Resurgence & Ecologist went to press. Through its crowdfunding campaign, the Stop Funding Hate group has also been working with the not-for-profit organisation Ethical Consumer to provide a league table of companies advertising in the tabloids, in time for the festive season. The group has also launched a competition for students to submit a two-minute video on why mobile phone providers should stop advertising in the Daily Mail, the Daily Express and The Sun. "We want to remind people Christmas is about being nice to people, not just about selling your stuff," Wilson says.

Stop Funding Hate's Christmas campaign is featured on the group's Facebook page en-gb.facebook.com/stopfundinghate/ and details of the film competition are at stopfundinghate.org.uk/get-involved/filmcompetition/ The deadline is 12 January 2018.