Books of the Year
Donate Now
Issue 306

Jan/Feb 2018
The Way of the Garden
Reviews
Books of the Year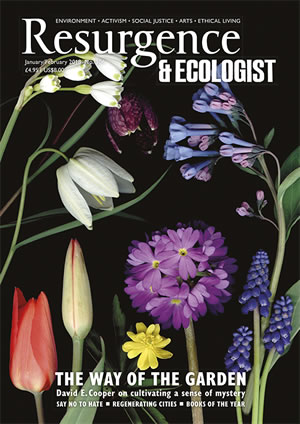 Cover: Bloom Day Scan © Craig Cramer, http://ellishollow.remarc.com
From futurology to Nature writing, politics to poetry, our annual survey of good reading offers a rich seasonal selection.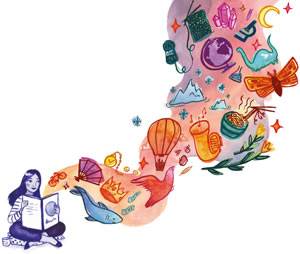 Illustration by Emmeline Pidgen www.emmelineillustration.com
BECCY SPEIGHT

A wonderful and enlightening meander through the different issues surrounding our woods and trees, Oak and Ash and Thorn by Peter Fiennes (Oneworld Publications) is unapologetically grounded in the author's opinion and emotion and woven through with a love of poetry and historical insight. It is like a walk in the woods with an engaging and curious companion – one moves from the dark and the unsettling into sunlit glades, frequently stopping to connect with moments of beauty but also with the shocking truth of the threats facing our woods today. But don't be fooled by the friendly tone of this at times despairing gentle wanderer. The call to arms is both gritty and achievable – and calls on us all to act before it is too late.

Beccy Speight is CEO of the Woodland Trust.
HUGH FEARNLEY-WHITTINGSTALL

Combining science, natural history and philosophy, Other Minds by Peter Godfrey-Smith (William Collins) is a study of the octopus, a creature of clear intelligence and remarkable sensory sophistication. But this book does more than shine a spotlight on a single species. While charting the evolution of this earthbound alien intelligence (and that of its similarly smart cousin, the cuttlefish), it also looks at the development of our own brains, and asks what consciousness is – what it means to have a mind. Like all the best Nature writing, it makes us think about our own place on the planet.

Hugh Fearnley-Whittingstall is a writer, cook and environmental campaigner.
SARAH CORBETT

How Change Happens by Duncan Green (OUP), a book for both experienced activists and novice protesters alike, provides a clear summary of how change happens through different types of activism. Green explains the importance of honing our craft in activism, but also shows that there is no neat formula for change. We need to 'dance' around injustice, being knowledgeable about power structures but also seeing all structures as ecosystems that are constantly moving and breathing: so we need to be flexible when engaging with them. Accessible (refreshingly jargon-free), full of case studies from different times and contexts, it reads like a thoughtful chat in a pub: a book to challenge and encourage us all in equal measures.

Sarah Corbett is the author of How to Be a Craftivist.
MADDY HARLAND

Drawdown: The Most Comprehensive Plan Ever Proposed to Reverse Global Warming, edited by Paul Hawken (Penguin), takes its title from the idea of what happens when greenhouse gases peak and then go down year on year. In 2013 Hawken gathered 70 scientists and policymakers from twenty-two countries to research climate solutions and indicate a hundred of the most effective ways to reduce emissions or sequester carbon. The solutions are listed in categories: Energy; Food; Women and Girls (the combined effects of family planning and educating girls the number one drawdown solution); Buildings and Cities; Land Use; Transport; Materials. We can calculate these effective solutions in isolation, but when they are combined we get exponential gains. The climate story isn't over yet.

Maddy Harland is co-founder and Editor of Permaculture magazine and Permanent Publications, and is the author of Fertile Edges: Regenerating Land, Culture and Hope.
BILL McKIBBEN

Kim Stanley Robinson's New York 2140 (Orbit) is classed as science fiction – it concerns a New York half underwater from sea level rise – but it might be better described as social science fiction, concentrating as it does on the ingenious responses of the locals to their inundation. It's remarkably funny and soggily cheerful, a reminder that the spirit of adventure will hopefully not desert us even in dark times.

The American activist Bill McKibben is the author of, most recently, Radio Free Vermont.
VANDANA SHIVA

Shashi Tharoor's Inglorious Empire: What the British Did to India (Hurst) is important reading for anyone who wants to understand how India became poor. At the time of colonisation by the East India Company, India accounted for 25% of the world economy. By the end of the British Empire, its share was down to 2%. This book is also important because it helps us understand the processes of today's global poverty creation through the same processes of "free trade" and globalisation that were used by the British Empire. It allows us to recognise these patterns and work towards sustainability, justice and non-violent societies.

Vandana Shiva is Director of Navdanya – www.navdanya.org – and is a longtime Resurgence contributor.
FIONA REYNOLDS

Adam Nicolson's The Seabird's Cry (William Collins) is both a glorious evocation of the mysterious and fascinating lives of seabirds, and a forensic account of their vulnerability at the hands of human ignorance and exploitation. Nicolson describes in intimate detail the qualities and characters of each of ten species, among them the sleek gannet, the elegant kittiwake, the greedy gull and the quirky puffin. His insight into their habits – often based on recent research – exposes the majesty and ingenuity of these creatures, while revealing the devastating impact of our thoughtlessness as we let plastic pollute the oceans, or trap and kill birds in intensive fisheries. He ends with an eloquent and truly terrifying picture of what we are doing to the planet. This is a compelling call to action.

Fiona Reynolds, a former Director General of the National Trust, is Master of Emmanuel College, Cambridge.
JEREMY SEABROOK

Arundhati Roy brings to The Ministry of Utmost Happiness (Hamish Hamilton), her first novel since The God of Small Things, much of the social and political sensibility that has marked her work in the intervening years. She writes about the arbitrariness of identity – gender, ethnic, religious – and of the tragic consequences for a world in which these determinants take on the transcendent significance that leads to the inhumanity of Kashmir, communalism, caste and ethnic violence, and atrocities against women, hijras, transgender people and all sexual minorities. The novel is ramshackle, like the lives of her protagonists, but her social, psychological and political insights, expressed with a curiously baroque precision, are as haunting as the cemetery in which one of her principal characters takes refuge from the intolerable weight of being.

Jeremy Seabrook's next book is Orphans: A History, to be published later this year.
JINI READY

I can't sing the praises of my local library enough. I've stumbled upon some gems in it lately. One is The Strawberry Girl, a novel by Lisa Strømme (Chatto & Windus). It's set in Norway and explores the power of art and Nature – it's loosely an interpretation of the story behind Edvard Munch's painting 'The Scream' and is lusciously atmospheric, nuanced and wonderfully readable.

Jini Reddy is the author of Wild Times, which was recently voted Best Guidebook at the British Guild of Travel Writers Awards 2017.
PETER REASON

My choice is Facing Gaia by Bruno Latour (Polity Press). It doesn't stop, Latour writes: one morning it's rising water levels, the next soil erosion, and by evening it's glaciers melting. This is not a 'crisis' that will pass; the Anthropocene, or as he prefers, 'the new climatic regime', gives rise to a profound mutation in our experience of the world. Our sense of 'nature' itself is unstable: 'nature' and 'culture' are not two separate domains but interpenetrate as Nature/Culture. So Latour, celebrated for his studies of the intersection of science and society, explores, with immense erudition and quite a bit of ironic humour, "entirely different answers … to define our relation to the world". He addresses the meaning of Gaia, notions of globalisation, time, war and peace, and governance. Not an easy book, but one that will both disturb and illuminate.

Peter Reason's latest book is In Search of Grace: An Ecological Pilgrimage.
PETER AINSWORTH

Britannic Myths by Steven O'Brien, with illustrations by Joe Machine (Theme Artefact) is an intriguing and highly enjoyable retelling of ancient myths from the British Isles. Conscious that many of the myths we know come from Mediterranean civilisations, O'Brien sets out to remind us of the stories that spring from our own "cool mists and deep greens". This is a journey into a past that still informs our own culture even though we might not know it; it's a rediscovery, a recovery even, of glorious tales we are in danger of losing. Stories to read aloud by the fireside on a dark winter night.

Peter Ainsworth, a former Conservative MP and Shadow Secretary of State for the Environment (2005–9), chairs the Big Lottery Fund and the Churches Conservation Trust.
JILL ROBINSON

Hands up – I know Maya Gottfried as a friend and colleague, and have always greatly respected her kindness and sensitivity in the midst of our work helping, and often rescuing, animals across Asia. Maya understands that sugar works better than salt in campaigning for enhanced welfare of and respect for our animal kin. In her book Vegan Love (Skyhorse Publishing), Maya refrains from lectures, convinces with reason, and shows an innocent vulnerability in wearing her heart, and her life, on her sleeve. This planet can no longer sustain our voracious animal exploitation, and basic common sense shows that our habits must change. If you love life, with or without a partner, Vegan Love is for you.

Jill Robinson is the founder of Animals Asia.
ROBERT MACFARLANE

I nominate Gregory Norminton's The Devil's Highway (Fourth Estate), which I have read in advance of its publication this January. It's a brilliant deep-time meditation on how landscapes hold – and conceal – meanings. The novel's stories are set across three points in time, but always in the same place (a Roman road – the highway of the title – crossing southern England). It's a powerful meditation on the damages – and the good – we have wrought, and will wreak, on the living world.

Robert Macfarlane's latest book is The Lost Words, with Jackie Morris.
ADAM THORPE

"If Beckett was the last great modernist, Jones was the lost great modernist." So Thomas Dilworth begins David Jones (Jonathan Cape), his superb and long-awaited biography of the poet-artist genius whose terrible experiences in the trenches were refracted not only in his magnificent paintings and drawings, but also through the magisterial long poems In Parenthesis and The Anathemata. If Jones is neglected, it is because his work is perceived to be difficult, mixing genres, embedding classical tags alongside Cockney slang and fragments of Welsh myth, all imbued with a deep Catholic religiosity and, paradoxically, a pagan sensibility rooted on our islands. "Yet religion seems to have informed his neurosis," Dilworth writes with typical clarity, agreeing with those who insist that Jones's religion was not "psychologically toxic", but a healing process.

Adam Thorpe's latest book is Missing Fay.
SATISH KUMAR

Now in his eighties, the Buddhist monk Thich Nhat Hanh has written and published more than 80 books. The Art of Living (Rider) is his latest and most accessible. I have been reading it aloud to my wife, June, every morning and I find it inspiring. It is simple yet profound. The key idea in the book is that of interbeing. Thich Nhat Hanh has coined this term in order to assert that all and everything is interconnected, interdependent and made of each other; nothing exists in isolation or separation. The moment we realise the truth of interbeing, we are on the path of transformation, liberation and happiness. With disarming simplicity and without using technical Buddhist terms, Thich Nhat Hanh guides the reader through the journey of joyful and meaningful living. This book has become my favourite companion.

Satish Kumar is Editor Emeritus of The Resurgence Trust.
ROWAN WILLIAMS

The new edition of E. Amy Buller's powerful book about her experiences of 1930s Germany, Darkness over Germany: A Warning from History (Arcadia Books), is a timely contribution to current worries about the future of democracy. Buller records conversations with students, teachers and ordinary citizens of Hitler's Germany and concludes that Nazism was possible because of the lack of convincing alternative narratives of selfless dedication. Her question was, what educational philosophy and structure could prevent this sort of void from opening again, in England or elsewhere? She doesn't think that existing conventional education meets the challenge – and it is hard not to believe that things have become even more worrying since her day. Do we offer young people a powerful enough story of possible commitment to a comprehensive and a just human future, or only a set of tools for getting by combined with a coarsened, self-centred and short-termist public culture?

Rowan Williams, a former Archbishop of Canterbury, is Master of Magdalene College, Cambridge.
CHRIS SMITH

Andrew Raven was a passionate environmentalist and conservationist who died tragically young 12 years ago. The Andrew Raven Trust was established in his memory, based on Ardtornish estate in Morvern, on the west coast of Scotland, and dedicated to promoting the principles of sustainable development, rural community development, and education about sustainability. Notes from Morvern: Ten Years of the Andrew Raven Trust by Adam Nicolson – a series of ten essays published in June this year – is a lovingly produced exploration of these themes, focused on the wild, beautiful and challenging landscape of Morvern. It is full of the spiritual and the practical, just like Raven himself was. Copies are available from the Estate Office at Ardtornish.

Chris Smith, former Labour MP, Secretary of State for Culture, Media and Sport, and Chair of the Environment Agency (2008–14), is Master of Pembroke College, Cambridge.
DANNY DORLING

Success and Luck: Good Fortune and the Myth of Meritocracy by Robert H. Frank (Princeton University Press) explains why people don't become rich because they work hard, but primarily because they try to become rich and are also extremely lucky. That luck may be short-term luck. The very richest people in the world are not necessarily the happiest. What's more, they often suffer from the ill effects of believing they became rich through their own merit. This leads to their behaving in ways that are extremely damaging to everyone around them and the future sustainability of the planet – if only they knew!

Danny Dorling is a professor at the School of Geography and the Environment at the University of Oxford. His latest book is The Equality Effect.
JONATHAN ARKUSH

Dina Gold's Stolen Legacy: Nazi Theft and the Quest for Justice at Krausenstrasse 17/18, Berlin (American Bar Association) is a great read – a true-life story that is dramatic and poignant, with an eventual happy outcome. It is above all the story of a family whose lives and personalities have skilfully been brought back to life despite the best efforts of its Nazi persecutors. A history shared by so many families, many of whom were murdered with such efficiency that their story will never be told.

Jonathan Arkush is President of the Board of Deputies of British Jews.
SUE HAYMAN

As a child I lived on the edge of woodland and have always loved trees. I have just finished reading The Hidden Life of Trees by Peter Wohlleben (William Collins), a magical, easy-to-read book that describes trees as living together as 'families'. The author explains how trees live side by side, communicating and supporting each other. His deep love of trees and woodland shines through and had me captivated. A walk in the woods has been given a whole new significance.

Sue Hayman is Labour MP for Workington and Shadow Secretary of State for Environment, Food and Rural Affairs.
JOHN SAUVEN

A gripping intelligent page-turner set in tomorrow's melted Arctic, The Ice by Laline Paull (Fourth Estate) tells the story of a self-made man and polar fanatic forced to confront his demons after he buys a piece of Svalbard coastline, thinking he can protect with one hand and exploit with the other. Convincingly researched, Paull's thriller pushes her colourful characters into extremis, and as her anti-hero discovers, facing the truth hurts. The Ice is a rallying cry that we still have time; that we can and must protect the Arctic – all wrapped up in a deceptively entertaining read.

John Sauven is Executive Director of Greenpeace UK.
REBECCA VILKOMERSON

The Return by Hisham Matar (Random House) is the book that stayed with me the most strongly in the past year. A non-fiction account of the author's quest to find out what happened to his father, a Libyan dissident who was 'disappeared' by the Qaddafi regime decades earlier, its beautiful prose reads like a novel. It captures a moment of hope between liberation and civil war, the multigenerational impacts of state violence, and the yearning for return to one's homeland despite everything. It's also a family love story, a mystery, sometimes an absurd comedy, and ultimately a tale of great bravery and brutality.

Rebecca Vilkomerson is Executive Director of Jewish Voice for Peace.
CAROLINE LUCAS

Kate Raworth's Doughnut Economics (Random House Business) is a compelling and timely intervention into the debate about how we can best structure our economy for the 21st century. Behind the sweet-sounding title is a radical redrawing of the current economic model – to incorporate both human needs and desires, and ensure that planetary limits are respected. Raworth's central challenge, to which those of us involved in transformative politics must now respond, is to change our goal – from maximising GDP to "meeting the human rights of every person within the means of our life-giving planet".

Caroline Lucas is MP for Brighton Pavilion and co-leader of the Green Party of England and Wales.
HELEN BROWNING

I read Adam Nicolson's extraordinary latest work, The Seabird's Cry (William Collins), while traversing Patagonia by land and sea, the perfect place to reflect on our relationship with the natural world. Nicolson's blend of poetry, science and philosophy, and his balance of wonder, deep insight and stark warning of the environmental destruction we wreak on Nature brought our voyage into even sharper relief. He concentrates on 10 species of seabird, and whether or not you love birds, the sweep of their lives will blow you away. This is an important treatise, beautifully written and a very enjoyable read, telling stories that are at the heart of life on Earth from a perspective that is not human-centric, but nevertheless has many lessons for our lives.

Helen Browning is Chief Executive of the Soil Association.
JAMES THORNTON

I was fascinated by Max Tegmark's Life 3.0: Being Human in the Age of Artificial Intelligence (Allen Lane). It's a brilliant introduction to perhaps the most important conversation of our time: how to ensure that as artificial intelligence (AI) becomes ever more powerful, it leads to a benign future, not a dystopian one. Even if we solve global warming and achieve social justice, that won't matter if the dark version of AI takes over. On the other hand, AI for the good could help us meet our toughest challenges. Our future depends on getting it right, and this book genuinely helps.

James Thornton is Chief Executive of ClientEarth. His most recent book is Client Earth, co-authored with Martin Goodman.
SUNNIVA TAYLOR

Alice Oswald's latest volume of poetry, Falling Awake (Cape Poetry), is to me a hymn for the Earth and a prayer for activists taking action in her defence – both those who take time to really notice just how miraculous Nature is and those struggling to prevent destruction. I find 'Dunt: A Poem for a Dried-up River' and 'Tithonus: 46 Minutes in the Life of the Dawn' particularly powerful. Oswald's writing is always spiritual and political, without ever being explicitly either. It helps me remain 'awake' to the world.

Sunniva Taylor is Sustainability and Peace Programme Manager for Quakers in Britain.
HONOR BEDDARD

The question of how humans relate to other animals has captivated philosophers, anthropologists, scientists, ethicists and artists for centuries and was the topic of Wellcome Collection's 2017 exhibition Making Nature: How We See Animals. While curating it, I found myself constantly returning to Carol Kaesuk Yoon's Naming Nature: The Clash Between Instinct and Science (W.W. Norton). In this hugely entertaining romp through the history of taxonomy, Yoon argues that our instinctive urge to name and order the world around us is absolutely fundamental, not just to our sense of self, but also to the very survival of our planet. It's never too late, she says, to start noticing the world around you.

Honor Beddard is the curator of Making Nature: How We See Animals and A Museum of Modern Nature at Wellcome Collection.
SIMON BLAKE

One of my favourite reads, and certainly one of my most important reads, of the year is Why I'm No Longer Talking to White People About Race by Reni Eddo-Lodge (Bloomsbury Circus), which brings together essays examining differing themes, from Black British history to race and feminism. Drawing on Eddo-Lodge's personal experience at home, school and university and in the media, along with research and interviews, this book shines a light on a conversation about race, racism and whiteness that must be had in every village, town and city in the UK and beyond. This is an absolute must-read.

Simon Blake is Chief Executive of the National Union of Students.
AMY MOUNT

Fiona Reynolds picked the right time to write The Fight for Beauty (Oneworld Publications). It's a light-touch, engaging and (as its author used to run the National Trust) often personal history of the struggle to protect the charm of Britain's natural and cultural heritage. Reynolds asks us to allow beauty – what moves us, what stills us with awe – back into our rationales for managing Nature, alongside the economic arguments that have come to dominate. Today, the environment community is rightly taken up with an urgent and immense effort to ensure that a greener UK emerges out of the Brexit process, within a broader national conversation about the UK's identity outside the EU. This book is a reminder of the foundational place that the landscape has always had in the British imagination.

Amy Mount is head of the Greener UK Unit at the Green Alliance.
KATE RAWORTH

In the face of authoritarian governments, what can people do? Steve Crawshaw's brilliant photo essay Street Spirit: The Power of Protest and Mischief (LOM Art) reveals the ingenious and irreverent ways in which people worldwide resist and deflate the power of even the most repressive regimes. From illegal pillow fights in Belarus and subversive sandwich-eating in Thailand to defiant grandmothers in Argentina and riot-police clowns at the G8: look, read, and be humbly inspired. Their moving, daring and funny stories celebrate the power of everyday tools of resistance – from umbrellas and rubber ducks to saucepans and the sheer courage of the crowd – and encourage the inventive protest in us all.

Kate Raworth is a Senior Visiting Research Associate at Oxford University's Environmental Change Institute and is the author of Doughnut Economics.
TONY JUNIPER

Dead Zone: Where the Wild Things Were by Philip Lymbery (Bloomsbury) takes readers into the global web of connections that link modern forms of factory farming of animals to the decline of some of the world's most beautiful and iconic wild species. It reveals through vivid first-hand accounts how a wide range of declining and endangered creatures from jaguars to elephants and penguins are being impacted by the production of the feed needed to sustain farm animals. This book is something of a landmark in the way it makes clear and explicit the important linkages between growing concerns about animal welfare and those of conservation. It highlights not only the scale of challenge, but also the opportunities for positive change in moving towards a food system that enables humans to thrive without destroying Nature.

Tony Juniper is President of The Wildlife Trusts and a former member of the Resurgence Trust board of trustees.
JONATHAN BARTLEY

As neoliberalism collapses around us and climate breakdown starts to bite, it's never been clearer that we need bold ideas to take us into the 21st century. But how do you communicate policies like universal basic income? A borderless global society? A world where work has a true sense of meaning? Rutger Bregman's Utopia for Realists: And How We Can Get There (Bloomsbury) offers valuable answers to these questions, making the unthinkable seem like common sense. Written in a breezy tone with dozens of real life examples, this book takes stuffy policy ideas and brings them to life – showing us how these policies will make a real difference to people's daily lives. Loaded with colour, optimism and warmth, this is a vision for society that truly inspires.

Jonathan Bartley is co-leader of the Green Party of England and Wales.
JEREMY LEGGETT

Yuval Noah Harari's Homo Deus: A Brief History of Tomorrow (Harvill Secker) is about the human future in an era where data-driven societal transformation is unfolding at a rate few or perhaps none of us can fully appreciate. Robotics, bioscience and the soaring ability of machines to process and apply megadata make the future impossible to predict, the demise of liberal democracy very probable, and a happy outcome difficult to conceive, Harari argues. We have to hope he is wrong, but reading his summary of the world around us, and experiencing the eruption of surveillance capitalism in our everyday lives as we do, it is difficult to see where. As a senior Microsoft executive warned recently, artificial intelligence is ripe for abuse by authoritarian regimes. If you are a campaigner, there is everything to play for. But first you need to read this book.

Jeremy Leggett is the founder of SolarAid.
ASAD REHMAN

Colson Whitehead's The Underground Railroad (Doubleday Books) is more than simply one woman's story, or a slave narrative, or even a radical act of storytelling centring the voices of black women so often silenced and ignored. This book shines a uniquely powerful light on the realities of race and the systemic oppression in the United States that continues to deny black people the simple right to life and put a white supremacist in the White House. And it also speaks to our own eternal truth – resistance is not an option, but a necessity.

Asad Rehman is Executive Director of War on Want.
JONATHON PORRITT

My book of the year is Dead Zone: Where the Wild Things Were by Philip Lymbery (Bloomsbury). We've all got used to understanding the connections between threats to biodiversity from climate change and continuing industrial development, but very few environmentalists have understood that our insatiable demand for cheap meat poses an equally serious threat. At long last people are beginning to focus on the multiple costs associated with our meat-intensive diets – and on the imperative of massively reducing our dependence on animal-based protein. Lymbery's book is playing a critical role in that journey of discovery.

Jonathon Porritt is Founder Director of Forum for the Future.

Russell Warfield contributed to this feature.