Poet by the Sea
Donate Now
Issue 309

Jul/Aug 2018
The Food Issue
Undercurrents
Poet by the Sea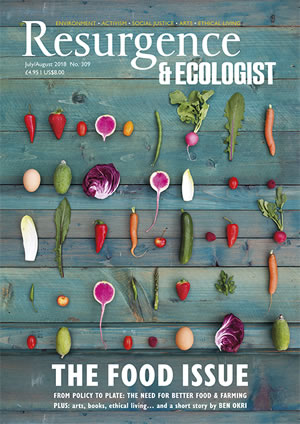 Cover: Photograph by Leela Cyd www.leelacyd.com
A short story by Ben Okri.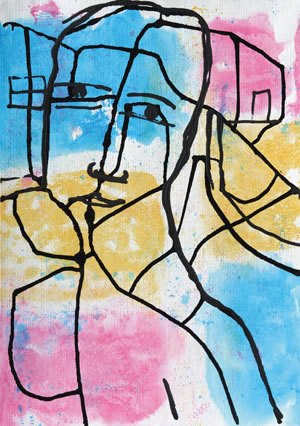 Illustration by Rosemary Clunie www.rosemaryclunie.com
He emerged from the sea early in the afternoon, having spent the morning deciphering hieroglyphs. He had been contemplating the meaning of footsteps along the shore, and interpreting the cries circulating from the other side of the world.

The sea, in its obscure rage, had destroyed ancient temples and prosperous towns. Earthquakes had inscribed gaps in mountains and human destiny. The gossip of fishes had brought him news of imperfect revolutions in crescent lands.

Labouring among the symbols of alchemists, he had been aware of the murmurings of history. Late in the morning he had wandered among the seaflowers and the riverbed acacias. He had been charmed by the flight of the water swallows emigrating to temperate seas.

It had been a long morning. It had been a long morning of human history. From the moment when man, touched by an obscure impulse, stood up on two legs, to the moment, a million years later, when he stood up in his mind. A long morning. Barely enough time to witness the growth of pyramids and the regret of nuclear realities. But long enough to have a conversation with those multi-coloured fishes that swim in and out of dreams.

Late in the morning a message from his guide appeared among his poems. His guide sometimes appeared as a blue fire and sometimes as a golden wisp of incense smoke. This was the message:

"Time to leave the deep. Time to wander among the debris of human dreams.

Time to read the signature of the sublime in the fallen trees, the orphans' voices, and the songs of abducted women.

Time to rebloom the withered trees, without the supernatural."

He finished his tea, put on a high-collared coat of fuchsia, and emerged into the early afternoon. Like a poem drifting in the wind, he merged with the blue doorways.

Only those who love the myrtle and the dove and the wand of Merlin saw the poet, wandering by the sea.

From The Magic Lamp: Dreams of Our Age by Ben Okri, with paintings by Rosemary Clunie, published by Apollo, an imprint of Head of Zeus.