From Burn Out to Creative Renewal
Donate Now
Issue 313

Mar/Apr 2019
Regeneration
Web Exclusives
Article
From Burn Out to Creative Renewal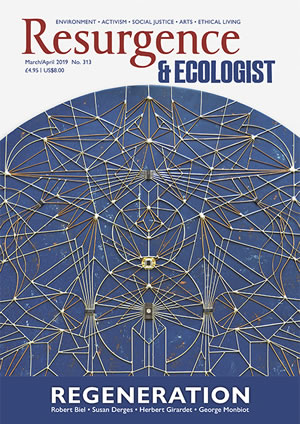 Cover: Microchip synapses 18 - Fusion chamber by Leonardo Ulian www.leonardoulian.com
Musician Tallulah Rendall explains how she found balance through the practice of qi gong.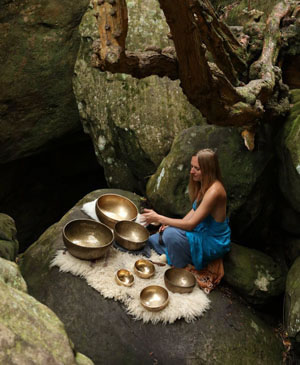 Balance. A word that now rings loudly in my ear was once drowned out by my limitless creative drive, ego and ambition. At the time I was completely oblivious to all of this, until one day after returning from touring my second album, I discovered my capacity to write, produce, book tours, manage and crowdfund had quite simply dissolved. Getting out of bed and climbing stairs was hard enough. Not only had my body reached its physical limit but also my self-belief and creative drive had dissolved.
What remained however was the insight that I had to change my lifestyle, my relationship with creativity and the knowledge that I had to ask for help.
That guidance came in the form of kindness and teachings from an acupuncturist whose treatments, knowledge of nutrition, meditation and qi gong presented a lifeline and one that I committed to wholeheartedly. Initially the acupuncture and nutritional advice resourced my body and spirit but it was the qi gong and meditation which I found deeply empowering. Each day I could nurture myself through a practice that brought nourishment to my heart, body and soul.
This was not however a quick fix. It took roughly a year to rebuild my strength, but the process that I began with in 2011 has totally transformed my life and my relationship to creativity.
Convinced I would no longer write or record music, I chose to immerse fully in the world of qi qong and embarked on a Qi Gong Teacher Training course with the British School of Shiatsu in Bristol; an experience that both soothed and nourished my core. It was during this teacher training when I was encouraged to integrate sound into my practices that a whole new chapter of my life began. In this moment grief poured through me as I met the sadness and fear I had buried in turning away from music, yet in the same breath, joy and inspiration flooded back in and I began exploring ways of running sessions using qi gong to bring people into their bodies, ground and centre, before opening and exploring their voice through toning and mantra. The more I facilitated, the more inspired I became and the more encouraged I was to delve deeper into refining my own practices.
There are three foundations of Qi gong practice: posture, movement, breath and mindfulness and meditation. Taoists teachers refer to the Central Channel, the energetic column running through our midline which connects us to the earth below and the energy above. Through the practices of qi gong there is a journey of refinement and attuning to this channel. This is the core of my practice and the more I ground into the earth, the more I am able to open my heart, to trust and to connect to my intuition and creativity. As my awareness of this practice expanded, I became aware of songs flowing through me and changes in the way I was expressing myself. It was 2014; I was living in Dartmoor when I wrote my third album The Banshee And The Moon but what followed was another tour and another bout of exhaustion. Whilst I had shifted some patterns, grown physically stronger and had integrated a daily qi gong and meditation practice into my life, my creative drive still dominated and I stumbled as I made the same mistakes again. This time however, with a little more awareness present, I didn't experience complete burnout, but enough of a shock to encourage me to retreat and reflect.
This journey of reflection took me deeper into my practices and once again away from the touring world of a musician. Instead, I focused on sound healing and studying sound therapy. From 2014-2018, I immersed fully in this world and cultivated a way of bringing together my deep respect for qi gong, and all the nourishment it brings, with the potency of sound and its ability to cut through, release, transform, inspire, empower and nourish. I studied far and wide and am constantly in awe of sound in this context and its healing capacity.
I discovered the world of Himalayan singing bowls, crystal bowls, gongs and shamanic percussion, and have spent these years exploring how to weave my voice and qi gong with these instruments. Each time I experience a pure connection to the divine and the nourishment it brings me inspires me to keep learning.
Over this last four years, when I have created space to write, songs have come through. So by 2018, I had a collection of songs that narrated my journey of connecting: to spirit, to the earth, love, loss, growth, the feminine, transformation… songs celebrating life and what it is to be a human being with all our beauty and imperfections. I had written songs on medicine drums or singing bowls so it made sense to incorporate these sounds into the sonic landscape.
During these years I had also been running a songwriting and performance course at Rise Up Singing in Dartmoor using qi gong and sound meditation to facilitate the sessions. As I encouraged people to attune to their central channel I witnessed them also refining their creativity. Then the word "liminal" dropped in; a space between realities, an indefinable place. I heard the word, read the definition, and felt wholeheartedly this was the place I connected to when I meditated or created, and so it felt the perfect title for my fourth album.
However, writing these words, I am reminded of my propensity to push too hard and burn out. So in this moment, I make the commitment to look after myself, and to continue deepening my practices of self-care and balance as I move forward in sharing my creativity.