Tools to Heal the Weald
Donate Now
Issue 314

May/Jun 2019
Pathways
Reviews
Tools to Heal the Weald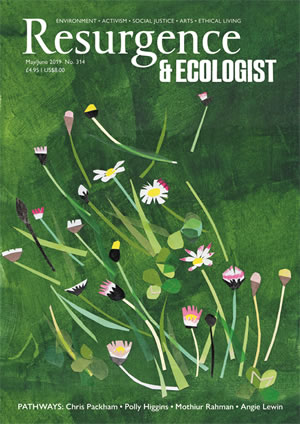 Cover: © Clover Robin Courtesy of The Bright Agency
Jan Goodey is fired up by a radical guide to the Middle Sussex and South East Surrey Weald. The Land of the Brighton Line: A Field Guide to the Middle Sussex and South East Surrey Weald by David Bangs. Self-published. ISBN: 9780954863821
The third in a series of landscape and natural histories of the South Downs and Weald, this is a jewel of detailed, radical naturalism. The finest facets of unknown Sussex and Surrey are brought to the fore by eco-socialist David Bangs' lively, often coruscating, always endearing prose.

"If you do not know it you cannot fight on its behalf," he writes, and this is more a book to galvanise action than to savour sedentarily. The giant-size format is jam-packed with helpful maps and photos alongside self-penned poems, all beautifully designed by Andrew Jamison.

Part one, 'The Back Story', looks at the Middle Sussex and South East Surrey Weald's geology, landscape history, land usage, and ecosystems: forests, waterways, heaths, meadows and wildlife. In the second part, 'The Area Guide', Bangs delineates areas that make geographical sense of this 'Brighton Line' – roughly following the rail route from the south coast up through Henfield, Hurstpierpoint, Plumpton, Barcombe, Haywards Heath, Burgess Hill, Cowfold, Knepp, Bolney, Balcombe, East Grinstead, Crawley, Reigate and beyond.

We move from medieval assarts to enclosures, to modern towns, motorways and airports. We start with the old droveways – though many are now roads, good stretches of green lanes still exist near towns and villages like Streat and Wivelsfield. As car culture has had a huge impact, so has neglect, with Bines Green typifying this tragic loss, turning "rich archaic grassland to a rank and simplified mess".

Where conservation efforts are put in place, as on the rewilded Knepp Estate, Bangs sees obvious gains for wildlife – barn owls, nightingales, turtle doves and herds of red and fallow deer – but also losses: there is little of the vegetables, cereals and fruit our farmland needs to produce to take pressure off "biologically superior poor world habitats of forest, wetland, steppe and savannah".

More than half of the Weald (Saxon for 'wood') and of Sussex's 15% woodland cover is ancient, and you have to take your hat off to Bangs' dedicated taxonomy of this. All ancient and veteran woodland is codified, including virtually every noteworthy specimen of oak, beech and yew.

Bangs also describes how sustainable, small-scale arable and dairy farms have collapsed – notable exceptions include Ashurst Organics and Plaw Hatch Community Farm – due to globalisation, the rise of cheap imports, and supermarkets; the Weald is now more of a giant garden suburb of the London megalopolis, replete with game shoots, equestrian yards and business centres tucked safely behind tall sentry fences.

Beyond these are the unimproved meadows and waterlands, the fish in the rivers Ouse and Adur, and woodlands of note including Balcombe Down and Worth Forest with its highest number of veteran trees.

In the concluding 'The Machine Has No "Off" Button', human-made climate change and mass species extinction are the two overarching problems facing this Weald, and "Capitalism's requirement for continuous growth, competition and pursuit of profit are at the heart of its inability to address this crisis."

Bangs' solution to preserve this most biodiverse part of the country is to link single-issue campaigns into a broader movement aligning environmentalists with socialists, so that, for example, London cleaners striking for a living wage, and the city's homeless people are "more fundamentally our allies than local landowners or business people from whom we might seek favours".