Happiness . . . it's a Gut Feeling
Donate Now
Issue 314

May/Jun 2019
Pathways
Reviews
Happiness . . . it's a Gut Feeling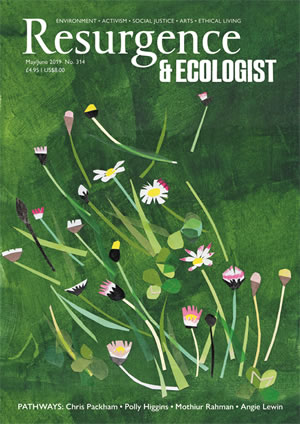 Cover: © Clover Robin Courtesy of The Bright Agency
Rachel Marsh listens in to some witty explorations of wellness.
The BBC podcast All Hail Kale describes itself as a look at "wellness with wit and actual evidence". In other words it's a light-hearted sift through the nonsense – or "unregulated free-for-all" – of the wellness industry, using science to distinguish between fact and fiction. Fans of Gwyneth look away now. Or, as host Tim Samuels puts it, "Don't just swallow anything."

This first series of six episodes asks whether we should be wary of dairy (spoiler: yes); explores the beauty industry; wonders whether it is possible to retrain your brain; looks for the healthiest foods (kale does feature); searches for ways to find happiness and meaning; and takes a detailed dive into the significance of our gut bacteria. And it's surprising how frequently the importance of diversity of gut flora is emphasised in this podcast. But everything, as Resurgence readers already know, is connected.

It could be incredibly worthy, but it isn't, because alongside the experts being grilled with disarming charm, we also hear wonderful contributions from, for example, a lactose-intolerant milkman, a ready-mix-concrete driver with surprising knowledge of face moisturisers, and an American prepper with a strange obsession for beige food… who for some reason finds Samuels a little too much of an atheist liberal to consider sharing her bunker with him.

The pick of the bunch for Resurgence readers is Beat Your Brain, where Deepak Chopra explains how the new fields of epigenetics and neuroplasticity show that our brains are much more flexible than you might imagine. Chopra's remedy to embrace a new regime for early rising is to walk barefoot on grass, which does sound appealing, though Samuels is less convinced. The episode finishes with the bonus of a meditation exercise from Chopra, which I am still contemplating days later. Another cracking episode is Tony Robbins: Happiness, The Future & Poison Fish, in which we learn that "there's no happiness in the me, me, me world. There's only happiness in the we world ... where we're serving each other." Is it possible to reach the end of this episode without a massive smile on your face? I doubt it. I would also thoroughly recommend Scary Dairy for the best puns in the podcast series, and for its diet-changing information.

All Hail Kale is made by Tonic Productions for BBC Sounds, and is one of a bevy of new podcasts from the BBC, though you'll be able to find it on any podcast app.