Celebrating 'Old Nature Writing'
Donate Now
Issue 318

Jan/Feb 2020
A Lot on Our Plates
Reviews
Celebrating 'Old Nature Writing'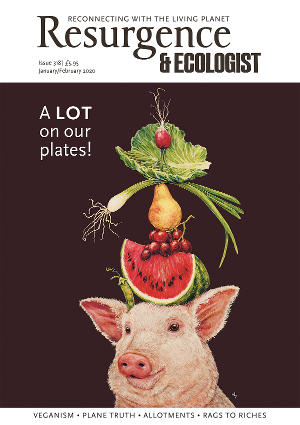 Cover: Lulu and Her Lunch © 2017, Vicki Sawyer ® www.vickisawyer.com
Stephen Moss enjoys two different but similar books from the 1920s. The House Without Windows by Barbara Newhall Follett and Jackie Morris. Hamish Hamilton, 2019. ISBN: 9780241389812. The Outermost House: A Year of Life on the Great Beach of Cape Cod by Henry Beston. Pushkin Press, 2019. ISBN: 9781911590149.
New Nature writing is on everyone's lips, thanks to the fine work produced by Robert Macfarlane, Mark Cocker, Helen Macdonald and many others. But we must not be so obsessed with the latest trend as to ignore what we might call 'old Nature writing'.

From Gilbert White in the 18th century, through later authors such as Henry David Thoreau, Nan Shepherd and my own hero, Kenneth Allsop, writers on both sides of the Atlantic have written about the natural world. Some – though by no means all – have used the subject as a starting point for meditations on our own place as part of yet separated from Nature.

Both the books in this review were originally published almost a century ago, just one year apart, and both authors were American. But there the similarities end. Henry Beston Sheahan was an acclaimed war journalist, whose gung-ho memoirs of action in land and sea battles during the first world war made his a household name. Following the end of the war he turned to a very different genre: children's fairy tales, published under the name Henry Beston. Then, in 1928, at the age of 40, he wrote The Outermost House, which is now reprinted with an informative and perceptive introduction by the writer Philip Hoare.

Barbara Newhall Follett was just 12 years old when her book The House Without Windows was published. The daughter of a literary critic and successful children's writer, she had started writing poetry at just four years old; at eight, she had written The House Without Windows as a birthday present for her mother. However, soon afterwards, her only copy of the manuscript was destroyed in a house fire, from which she and her family were fortunate to escape with their lives. Undaunted, she simply rewrote it from memory, and in 1927 it was published by Knopf. Long out of print and more or less forgotten, it has now been rediscovered. The new edition is introduced and beautifully illustrated by co-creator of The Lost Words Jackie Morris.

Both these books use the natural world as a backdrop to and central concern of the thoughts and feelings of the main protagonists. Beston, once the adrenaline-fuelled excitement of war reporting was over, retreated to a beach at Cape Cod, Massachusetts and captured his thoughts and feelings in a diary, which ended up as The Outermost House. The book focuses on the need to find peace and solitude in the midst of what we would now call a mid-life crisis. The author spends time getting to know this place and its wildlife in what becomes a healing process, something we now find very easy to understand.

His style is informal – journalistic in the best sense of the word – painting a clear picture of the world in which he has chosen to live. He is cut off from the rest of humanity and thus able to experience and appreciate a daily intimacy with Nature. His accounts of the migratory birds – turnstones and sandpipers heading north and south on their twice-annual global journeys – are especially haunting, as is his chronicling of the changing seasons, the weather and especially the tides.

The House Without Windows is, as you might expect, very different in both tone and style. The pre-teenage narrator, curiously named Eepersip, looks at the world with the wide-eyed innocence of her age, and uses simple, direct, yet elegant language to convey what she experiences around her. The ending – in which she turns into a wood nymph, "the spirit of Nature" itself – may be a little twee for modern tastes, yet the young author manages to connect with and convey the natural world in a truly magical way.

The subsequent stories of these two authors could hardly be more different. Beston led a long and productive life, garlanded with praise and awards, before dying at the age of 80 in 1968. Sadly, the Outermost House itself did not long survive him: in 1978, a hurricane and subsequent high tides swept it away into the Atlantic Ocean. Yet even today people still visit the beach at Cape Cod; in the words of Beston's friend Nan Turner Waldron, these are "pilgrims of a sort – stirred by his sense of wonder but drawn by his vision of hope". An earlier tribute came from the author of Silent Spring, Rachel Carson, who described Beston as the only writer who ever influenced her.

In stark contrast, by her mid-twenties, Follett – coincidentally also living in Massachusetts – was suffering from depression and a failing marriage. One night in December 1939, at the age of 25, she quarrelled with her husband and walked out of their marital home with just 30 dollars in her pocket. She was never seen again. Whether she was murdered, died by suicide or misadventure, or fled to some remote bolt-hole to connect with Nature once again, we shall never know.

Beston and Follett deserve to be more widely read, and these two new editions certainly do them justice. Both authors deal with a theme that still concerns us today: the complex relationship between human beings and the natural world. At a time when the new Nature writers are endeavouring to map the complex connection between humanity and Nature, they would do well to heed Beston's words: "Nature is part of our humanity, and without some awareness of that divine mystery man ceases to be man."