Herstory, Not History
Donate Now
Issue 319

Mar/Apr 2020
Give and Take
Reviews
Herstory, Not History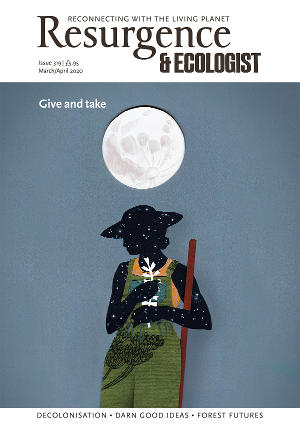 Cover: In Dreams We Wake by Molly Costello www.mollycostello.com
Louisa Adjoa Parker enjoys the weaving of a new historical narrative. A History of the World in 21 Women: A Personal Selection by Jenni Murray. Oneworld Publications, 2019. ISBN: 9781786076281
This book is written by Jenni Murray, a journalist and broadcaster who has presented BBC Radio 4's Woman's Hour since the late 1980s. Murray, whose other books include Memoirs of a Not So Dutiful Daughter, provides a snapshot of women's achievements across the ages and in all sectors of society.

Women's role in history has often been overlooked, and A History of the World in 21 Women can be seen as part of the current movement to uncover previously hidden stories. These women's lives are viewed through the lens of 21st-century feminism, and although Murray admits discomfort around the term 'intersectional feminism' – which aims to separate itself from white feminism by acknowledging that all women have different experiences and identities – the book is arguably written from this perspective. Murray explores how sexism has operated in different countries and periods, and how gender equality has moved at different paces globally. Each story has been lovingly researched and crafted with care. Murray identifies the personal and political strengths of each of the women, and invites us to celebrate their resilience and successes in a male-dominated world. She appears to feel a connection with many of them: she has interviewed some, and engaged with the creative output of others – their music, art or literature.

A number of the women featured endured great personal hardship, having been orphaned when young, or experienced violence or grief. Many fought for justice and human rights, overcoming obstacles and flourishing in spite of them. Take, for example, Italian artist Artemisia Gentileschi, who turned her experience of sexual violence into art; or Dowager Empress Cixi, who liberated women in China from foot-binding, or Hatshepsut, the first woman in ancient Egypt to declare herself a Pharaoh.

Murray searches for the positive, even when she doesn't like the woman she is writing about. Isabella of Castile, for example, icon of a fascist regime, is described as being "courageous enough to choose her own husband and rule alongside him on an equal basis". Some may not agree with celebrating such women, but many stories seen through today's lens include the oppression of others.

The book is written in a fresh, accessible, at times witty style, although the tone can lean towards the academic. Murray skilfully interweaves stories of the familiar with the lesser-known, and brings new information to light. In the chapter on Joan of Arc, she debunks some of the myths around this "tiny teenage girl, virginal and pure, in a world of big bullying men", yet maintains a story of courage. There is a clear link between past and present when she compares Joan's trial to the way teenage victims of abuse are tried today.

Other women in this book include Marie Curie, who, "made it possible for any girl who sees science as her life's ambition to say, 'If Marie Curie could do it, so could I' "; Coco Chanel, who enabled women to dress comfortably; musician Clara Schumann, who wrote, "I am a girl within my own armour"; and Mexican artist Frida Kahlo, of whom Murray writes, "I doubt there's a woman the world over who would not see some of her own life up there on the wall."

Not only has Murray succeeded in her aim to celebrate women's achievements, but this book is an achievement in itself – one that everyone who identifies as a feminist (and anyone who doesn't) should read.