The Race to Zero
Donate Now
Issue 328

Sep/Oct 2021
Tipping point
Welcome
The Race to Zero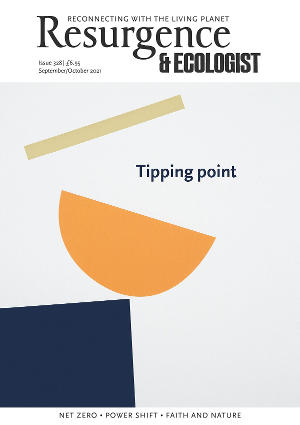 Cover: Balance 3, screen print, by Tom Pigeon www.tompigeon.com
On the road to 'Net Zero'.
An image of a hand holding a container of cosmetics with the label 'Hello, I'm paper bottle' was making the rounds on social media earlier this year, but presumably not for reasons the company had intended. In a second photograph, the 'paper' had been cut open to reveal a plastic bottle inside. Ironically, the manufacturer of the 'green tea beauty product' was subsequently accused of greenwashing. Taking the point further, Teresa Anderson, climate policy coordinator at Action Aid International, tweeted: "Hello! I'm a #NetZero climate target!" Her post received more than 50,000 'likes'.

As we begin the countdown to this year's UN Conference of Parties (COP26), a meeting that will decide how nations are going to implement the promises of the Paris Agreement and steer the world away from catastrophic overheating, many more governments and corporations are committing to 'net zero' climate goals. But the problem with 'net' – like the packaging of a 'paper' bottle – is that it can offer an excuse for business as usual. Not only that, but in the words of Action Aid, "By putting the burden for carbon sequestration onto land and tree plantations in global South countries – which have done little to cause the climate crisis – most 'net zero' climate targets are effectively driving a form of carbon colonialism."

To stay below 1.5°C of global warming, the International Energy Agency has called for an end to new oil and gas projects. Yet, just months before COP26, the government of host country the UK was set to approve a huge oil field off the coast of Shetland. While the chief executive officer of Oil and Gas UK said the project was part of "the net-zero future that everyone wants to see", Friends of the Earth Scotland warned it would result in "ever greater climate destruction". Elsewhere, others are more hopeful about the 'race to zero'. "A strategic response to systemic climate risk demands that business and investors set and pursue 'Paris-alignment' or 'net-zero' strategies – hundreds of firms are now doing so," Client Earth lawyers were quoted as saying in a toolkit published by the UNFCCC titled 'Get Net Zero Right'.

In this issue of Resurgence & Ecologist we set out on the road to Glasgow – host city of COP26 – and, in our themed section, we explore what 'net zero' means. Elsewhere in the magazine, Tim Saunders speaks to former politician Stanley Johnson, father of the British prime minister, about what the UK needs to be doing ahead of the summit, and we look at some creative ways in which writers and artists are communicating the urgency of the climate crisis. As politicians set a course for the future, two generations of conservationists – youth leader Mya-Rose Craig and Dr Jane Goodall, DBE – meet online to compare notes about defending life on our planet. We all have different perspectives on what should be done and how, but ultimately, we are in this together. The UNFCCC's website says, "Unlike most races, [the race to zero emissions] won't have one winner. In this race we all win, or we all lose."