Getting Word Out
Donate Now
Issue 328

Sep/Oct 2021
Tipping point
Frontline
Getting Word Out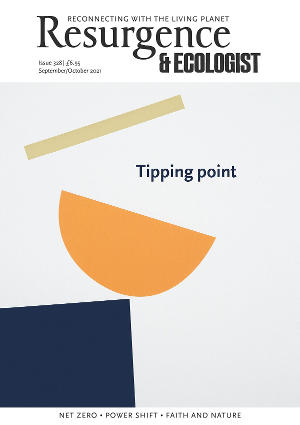 Cover: Balance 3, screen print, by Tom Pigeon www.tompigeon.com
Liz Jensen shares a new campaign from Writers Rebel.
Land art is not new. From prehistory, humans have made marks on rocks, shores, mountains and every conceivable kind of landscape. The most enduring marks reveal the evolution of the human mind. Some geoglyphs, like the Nazca Lines in Peru, are so vast that they can only be seen from a height impossible for their creators to have reached.

But it was a British teenager's message – 'Oi, Trump! Climate change is real', expertly mown in a grass field in the flight path of the presidential plane, that caught the eye of Writers Rebel. As writer-activists with a mission to put literature in the service of the environment, it got us thinking.

Now, in the months leading up to COP26 in November, Writers Rebel's Paint the Land project is teaming high-profile writers with well-loved and emerging visual artists to create landscape graffiti with a powerful ecological message. It's a simple formula – and one that Writers Rebel are encouraging affiliated environmental groups to make their own.

The first step is to come up with a short, cogent piece of text that highlights an element of the climate and ecological emergency. The creative team then work together to locate an urban or rural site that has significance. It can be a shoreline, a brownfield site, a big flat rooftop, a wood, a field by a motorway or a railway line, or anywhere that provides a striking natural canvas.

The creative action might involve planting shrubs, or using natural materials such as fallen branches, seaweed, sand or rocks. On a desecrated site, unexpected materials might highlight the damage – or transform it. But whatever the artwork, it's important that it should do no harm to the ecosystem, and that if possible it enhances it. The images can then be shared on social media with the hashtag #PaintTheLand, along with a short description of the work's components, its inspiration and its creators.

Writers Rebel hope to inspire a heartbeat of messaging that resonates around the world. Look out for more of our geoglyphs over the coming months, and visit our website to find out how to create your own.

For more information: www.writersrebel.com/act