Diversity on the Farm
Donate Now
Issue 333

Jul/Aug 2022
What's in a Word
Reviews
Diversity on the Farm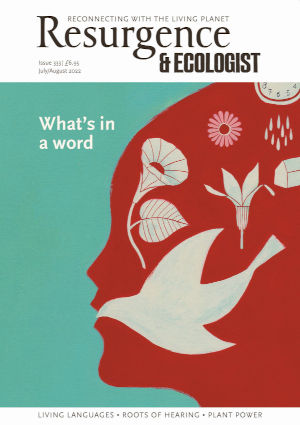 Cover: Artwork by Carole Hénaff www.carolehenaff.com
Vicki Hird reviews Vandana Shiva's new book. Agroecology and Regenerative Agriculture: Navdanya's Research on Sustainable Solutions for Hunger, Poverty, and Climate Change by Vandana Shiva. Synergetic Press, 2022. ISBN: 9780907791935
I knew that a new book by the leading global advocate of better farming, Vandana Shiva, would be a book of hope and of solutions, and of wonderful farmers creating good lives, healthful food and sustainable futures. Inevitably I expected it would contain a ferocious demand for change, and well-directed anger at what damage governments, corporations and apathy have allowed to come about in our food and farming systems across the world. It did not let me down.

Shiva sets the scene with the interlapping crises we are facing: the ecological one of environmental collapse, the public health crises of malnutrition and food or diet-borne diseases, and, finally, the one often hidden from consumers – the social crisis of farmers and workers, of desperate livelihoods, depression and betrayal.

She explores how industrial agriculture has been imposed on most of us like a war against the Earth, where chemicals and tech are the top 'weapons' peddled to provide food security to humanity. The proponents of industrial agriculture are also actively peddling myths that approaches like organic, agro-ecological, genuine regenerative will starve the world and destroy biodiversity, as they take up too much land. Independent scientific evidence Shiva draws from here shows that to be nonsense. With far better diets, less waste and systems governance, good farming can feed the world. And she neatly rebuts many critiques of organic standards too, such as on habitat clearing and tilling, showing how such accusations are based on ignorance.

Having met Shiva and heard her speak several times, I read this book in her voice and I hope she narrates an audiobook version, as her passion and expertise will resonate. This book draws on her long experience as a campaigner and advocate, as well as on a fantastic wealth of knowledge from 31 years of Navdanya's practical work and research. It is packed with stories of traditional yet productive farming, from microbat pest control to the magic of manure.

When I started on farm policy 30 years ago, it was niche to talk about farming sharing space with Nature and to talk about the role of Nature and soil. I have seen Shiva's ideas slowly come into the narrative and discourse on farming the world over, and now talk of such things is everywhere. But as Shiva points out, much is talk, not real change. Too much farming is still based on what she describes as a violence, with some light green PR.

Shiva outlines the Navdanya approach to agriculture based on five levels of diversity: ecosystem, farming system, species, varietal or genetic, and output. Such a broad approach creates jobs because it protects farmers and increases their outputs. I would stress that more diversity in people is key, especially in the UK and many western farming areas. The dominant ageing, white, established farm community would benefit hugely from diverse new entrants, with fresh beliefs and new skills adding an essential new vitality, thinking and acceptance of change.

This is a large tome, with a potentially bewildering and often very wide-ranging discourse capturing the flow of Shiva's thoughts, alongside the evidence base. This reflects how farming is a complex process – it's not a 'thing' to describe in narrow terms. That can make it hard sometimes and can feel repetitive, as different issues, from seeds, soil and water, through biodiversity and climate, nutrition and health, to farmers' incomes and livelihoods, inevitably need the same, agro-ecological solutions. More pictures, drawings and diagrams to break things up a bit would have been good, especially more of bugs.

But as a key aim of Shiva's is to increase understanding of and uptake of agro-ecological systems – which deliver farming that is ecologically vibrant, economically viable, and based on socio-cultural justice – this is a great contribution and should be widely read.