Oil in a Material World
Donate Now
Issue 335

Nov/Dec 2022
Positive Energy
Art and Culture
Oil in a Material World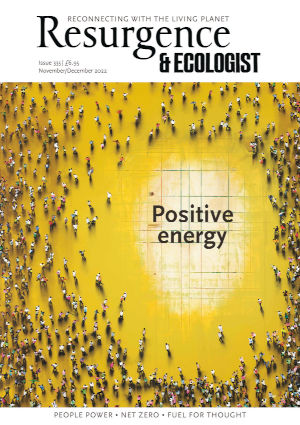 Cover: Inesperado (2018) by Juan Genovés © DACS 2022 www.juangenoves.com
Sandra Sawatzky shares the story behind her 70-metre tapestry
The Black Gold Tapestry would never have happened if I had not taken my young daughter and her friend to see a show of needlework at Glenbow Museum in Calgary, Canada. Afterwards, when we went over to the museum's craft room and I tried my hand at embroidery, something clicked. An interest in hand-sewing turned into an obsession.

Soon after that I set out to produce an epic 70-metre-long embroidered history of oil informed by the design elements of the 1,000-year-old Bayeux Tapestry. With my background as a designer, illustrator and film-maker, I planned to entertain and to explain the story of oil. I wanted to provide people with an understanding of the forces at work that led to climate breakdown. I hoped that by letting the factual events of the story speak in a unique medium, the tapestry could spark other kinds of conversation beyond the usual adversarial dialogue. In the face of feeling helpless about what is happening to our beautiful world, I spent nine years working on the tapestry because it was something I could do. The size, scale and labour-intensive medium help to reflect on the time it took for the Earth to create deposits of oil – and the speed at which we squander it.

People mostly know about oil as a fossil fuel, but the story is more complex. Oil is embedded in manufacturing the material world, from energy and plastics to textiles, dyes, medicines, wind turbines, solar panels and electric cars. The Black Gold Tapestry begins in the Triassic age, when dinosaurs roamed the Earth and microscopic algae formed into bitumen, and ends in the present day of climate change and energy transition.

Before embarking on the embroidering, I had to research and then draw a 70-metre master cartoon. That meant sifting through photographs, artefacts and research based on primary and secondary sources across a staggering number of subjects: geology, palaeontology, anthropogeny, archaeology, chemistry, combustion engines, automobiles, aeroplanes, rockets, drilling, distillation, child labour, robber barons, mining, textile mills, the world wars, royal jewels, weapons, whaling, oil sands, oil tankers and the colour purple, to name just some.

I put on my costume designer, props person and set designer hat to research clothes, hair, adornment, tools, machines, buildings and furniture, flora and fauna, and colour history to provide context for the different periods of time and place.

People are always curious to know how I managed the project, on which I spent close to 17,000 hours over those nine years. Through my experience of working on film projects that also lasted years, I learned to set daily goals. Routine is paramount. During the embroidering stage I stitched for nine and a half hours every day in blocks of time and fitted the rest of my life in between the embroidering sessions. It turned into a daily rhythm where I found out what I could do – and what I could do without.

A virtual tour of the tapestry can be seen at tinyurl.com/black-gold-walkthrough