Pilgrimage of the Heart
Donate Now
Issue 335

Nov/Dec 2022
Positive Energy
Reviews
Pilgrimage of the Heart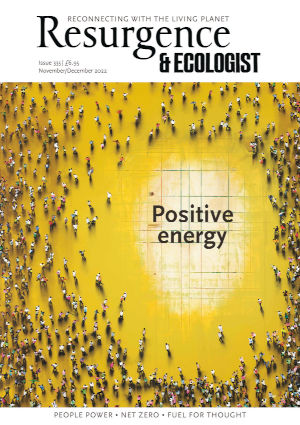 Cover: Inesperado (2018) by Juan Genovés © DACS 2022 www.juangenoves.com
A map towards spiritual awakening moves James Murray-White The Restorative Spirit: Illuminating the Soul in a Time of Global Awakening by Mick Collins. Transformocene, 2022. ISBN: 9781399921855
In this final book of his trilogy, author and eco-mystic Mick Collins presents a way-map for humanity to access the work our souls need to do, and by doing so to truly face what he describes as "a time of dissolution and disintegration". The three works are signposts towards a pilgrimage of the heart, giving pointers to clean up, knuckle down, and bring focus into our lives. He has developed the term 'transformocene' to create a stronger framing away from a limited Anthropocentric worldview, and to lift ourselves toward.

The Restorative Spirit is a huge volume combining the author's tremendous capacity for research and knowledge of the lives of saints and scholars with his own life's journey. It includes experiential exercises to reflect our own experiences and desires, and chapters that lean into the power of our imaginations, particularly our dreamwork. Collins is a specialist in unpicking themes and knowledge within our external expression of the internal worlds. He has a keen eye for ways to heal in order to progress, with chapters using illustrations from near-death experience and highlighting how life reviews are a crucial practice that needs to occur before our death. This interweaving of our potential and acknowledgement of our human pitfalls imbues this work with grace and heart. Above all else, it is creating an ecological transformation between humans and the natural world through the soul.

There is a powerful sense of the grounded sacred woven through this book – though Collins makes it clear that the road of soul work is challenging and can be full of fears and obstacles. By clearing childhood and past-life traumas and really looking at our sense of grief and loss – for the personal, for the human and for the more than human – humanity can change. Collins writes movingly of how, through the individuation of soul work, with the opening, purification and expansion that this involves, we can be a part of this "divine democracy", or transformation in action.

An underlying vein running through the work is a close scrutiny of moral conscience, and the choices we face with this as it corresponds to self and to 'the Other'. These include the demonisation of governments, fossil fuel producers, big business or 'othered' faceless corporations, and Nature.

Collins tells stories from the lives of Padre Pio, Elder Paisos and the intriguing 'invisible elders' in the monastery of Mount Athos, various popes and holy pilgrims, Nelson Mandela and Simon Wiesenthal, as well as many ordinary folk. He weaves these together to encapsulate our great tide of humanness, swimming into aliveness. These moments tell of seeing, hearing, knowing and feeling, though, as William Blake said, "How do you know but ev'ry Bird that cuts the airy way | Is an immense world of delight, clos'd by your senses five?" As a storyteller, Collins is shifting his readers into the liminal realm of mythos, and seeking to connect those with the heart to listen to our ever-expanding consciousness, and to do our work alongside what Thomas Berry called "The Great Work".

This close allying with mystical experience stemming from Nature, the ecological mystery of life, and our potential for numinous encounters that might lead to transcendence is part of the richness of The Restorative Spirit. Collins offers up a new spiritual liberation theology of the heart and the Earth, and it is our choice whether to accept, and to work consciously and collectively in this time of awakening.