A smorgasbord of new (and old) ideas
Donate Now
Issue 340

Sep/Oct 2023
Nature Positive Impact
Welcome
A smorgasbord of new (and old) ideas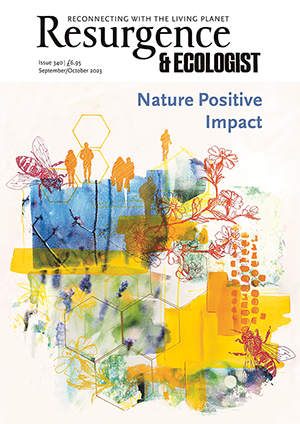 Cover: Illustration by Marian F. Moratinos www.marianfmoratinos.com
I have just finished checking proofs and writing the contents for this issue and there is no other way to describe what's coming up in the following pages than as a smorgasbord of new (and old) ideas – and honestly, if the magazine was landing on my doormat for the first time I wouldn't know where to start with all the goodies on offer.
From learning about the importance of genetic diversity in chimpanzee groups for their survival (Ecologist pages) to an autumnal extract from Call of the Kingfisher, a new book by musician Nick Penny, who has taken the trouble to record what he hears on his daily walks along the River Nene in Northamptonshire and to then share those in an online format for the reader (Connected Life), there really is something for everyone in this issue, including the business community.
We settled on a main theme of 'Nature Positive Impact' after much tussling with how best to tackle and illustrate this often thorny topic and find the right phrase for it to not only be a good fit for Resurgence members and readers but also leave us feeling inspired (rather than depressed) by the end of the section. And after much brainstorming I think we've managed just that with enormous thanks, as ever, to our contributors and in particular to Sophie Wisbrun-Overakker, who was commissioned at the eleventh hour and who delivered her inspiring article despite a major bereavement at the time of the deadline we had agreed.
I think that's the thing about Resurgence and why it's not like working on any other magazine. It has its own beating heart made up of all your beating hearts, those of all the contributors, whether they are in this issue or not, and everyone who supports the work of the Trust.
We (everyone who works at the charity) recently did some work behind the scenes to come up with a sentence or two to describe the work of Resurgence to people who have no idea what we do or why, and I'd like to share that here. For us, the key word and the one that really sums up what we are about is 'interconnectedness'. And somehow this is what every contributor in this issue (and hopefully every issue) reminds us of.
We are all interconnected.
All of the time.
Resurgence Trust mission statement:
The Resurgence Trust is an educational charity and global community that connects and informs and inspires positive change by honouring the interdependence of the Earth, the self and all living beings.