Saving a Species
Donate Now
Issue 340

Sep/Oct 2023
Nature Positive Impact
Connected Life
Saving a Species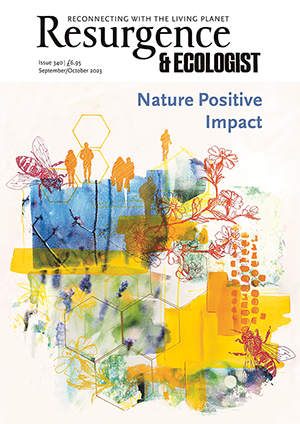 Cover: Illustration by Marian F. Moratinos www.marianfmoratinos.com
Annabel Heseltine travels to Socotra in the north-west Indian Ocean and discovers the plight of the dragon's blood tree
I arrive at Socotra, a small Yemeni island in the mouth of the Gulf of Aden, on a commercial dhow at 2am, but it is another eight hours before Ahmed Adeeb arrives to help me clear customs. I could have taken the weekly 'humanitarian' flight, but I wanted to take my time to arrive at this island caught in a fracturing time capsule; a UNESCO Natural World Heritage Site so remote that 37% of its plant species and over 90% of its reptiles and land snails are endemic.
Through the porthole of this sailing vessel, silvery dunes shimmer in a milky moonlight as magical as you would expect on the land of the djinn, where older generations still consult a Makoli witch doctor, where men still speak in unwritten languages and sleep in caves in the hot months, and which is the home of the last remaining forest of the dragon's blood tree (Dracaena cinnabari).
Weeping blood-red resin, the tree, which is in fact a herb, is called Dam al-Akhawain – 'the blood of the two brothers' – in Arabic because it grew from where their blood fell after two brothers killed each other. The resin has been used as a coagulant, a varnish for violins, an ingredient in lipsticks, Chinese cabinetmakers' lacquer, and medieval ink. Gladiators would use it for their wounds, recorded Celia Lyttleton in The Scent Trail.
Soqotri people still harvest the tree's resin as a medicinal cure for fever and dysentery, but after centuries of giving its blood, it's payback time. Now the dragon's blood tree needs their protection. Its Achilles heel is its slow growth. The tree, which thrives above 400 metres, catching as much moisture through its branches as it does from its shallow roots, can live for 800 years, but it takes at least 100 of those to reach maturity. It is threatened by climate breakdown and over-grazing, and as the older generation dies, the community's knowledge of traditional land husbandry is fading. A 2021 science paper concluded that without immediate help the tree faces extinction.
"Do you want to see my garden?" Adeeb asks me after I have showered in a bucket. I look around at his immaculate sandy courtyard. There's nowhere to plant anything. But I am off track.
Covered in dust, we roar past the bank of Yemen, the government's administrative buildings, and everywhere goats wandering over rubbish and blue plastic bags, the legacy of the ubiquitous qat that arrives in these bags from Yemen and the UAE, the UAE now showing a keen interest in the beautiful island.
Parking outside an eight-foot-high wattle and mud wall, we step through a door into a garden of Eden. It's so unexpected after the noisy clutter of the tiny sandy city. Inside it's peaceful and cool, shaded by palms, and full of baby dragon's blood trees – spiky cactus-like plants, just 18 inches high, set out in rows alongside seven species of frankincense.
"We plant them here to take them to the mountain because if you go now to the Diksam Plateau or the Roqeb di Firmihin, you don't see any seedlings of dragon's blood tree. Nothing," says Adeeb, holding up a 20-year old one.
The forest is over-mature, with little evidence of younger trees. Drought, fierce cyclones and poor land management haven't helped, but, says Adeeb, "the big problem is that there are 480,000 goats on the island, and they eat everything. Before I can take the trees back I need a fence, and funding."
"Adeeb is one of our major champions fighting for the cause and has immense knowledge," says biologist Kay Van Damme, who chairs the environmental charity Friends of Socotra. He is working with Adeeb on a project funded by the Franklinia Foundation, a Swiss charity dedi-cated to saving endangered trees. "Saving the species is not easy because of the time it takes for a dragon's blood tree to reach maturity: long beyond a human lifetime," Van Damme explains. "All protection strategies must account for future trends in climate, grazing and land use." Adeeb's family's garden is 35 years old.
In 1996, an agriculturist from the Yemeni Ministry of Agriculture who arrived to set up two dragon's blood tree nurseries was advised that if he wanted his project to be a success, he should contact Mr Adeeb (Ahmed's father). And so, just like me, he was shown Mr Adeeb's garden. One thing led to another. The young Ahmed was sent to study in Sanaa and then to the Royal Botanic Garden in Edinburgh, returning with financial support to encourage other farmers to dedicate their land to growing dragon's blood trees. But then disaster struck. The island was hit by cyclones and Yemen's civil war. Funding dried up as rain flooded and killed 70% of the garden's sensitive young trees, destroying too the solar panels and pipes powering the irrigation scheme. Undaunted, Adeeb self-funded a new generator for his own nursery, helping others such as Sheik Sulieman, who has fenced an area, to grow the seedlings high up on the plateau. He offered to take us there.
After a challenging three-hour climb to 1,000 metres in blazing heat, we crested a mossy pass on the limestone plateau of the Hajhir mountain range. And there the trees were in their thousands, stretched out for miles, standing sentinel along the jagged granite cliffs, silhouetted against a huge sky like blown-out umbrellas, their wizened boughs twisted like bent spokes tangled in the wind.
We camped below the pass. The wind came with dusk, and so did the mist, billowing damply past and through us, shrouding the trees above in a life-giving wet cloud. It was humbling – the years these trees had seen and would see when we are long gone are a constant reminder of Nature's resilience, but also of Nature's vulnerability at the hands of humans.
Like many remote islands, Socotra is a 'living laboratory of evolution'. Its endemic species count is only slightly lower than that of the Galápagos, but what inspires hope for the dragon's blood tree and other endangered endemic species isn't just the crucial work being done by scientists, or funding by organisations like the Franklinia Foundation. It is also the engagement of local communities and the relationship of people like Ahmed Adeeb with the land. It's the kind of collaboration that Fauna & Flora International warned at COP15 is "absolutely vital" if we are to achieve the Global Biodiversity Framework's 30x30 target of effective conservation and management of at least 30% of the planet by 2030. Although I do wonder, when I stand so small in such a big landscape, is that enough?

The Franklinia Foundation: www.fondationfranklinia.org