Civil Disobedience in a time of Emergency
Donate Now
Issue 341

Nov/Dec 2023
Navigating Climate Anxiety
Ecologist
Civil Disobedience in a time of Emergency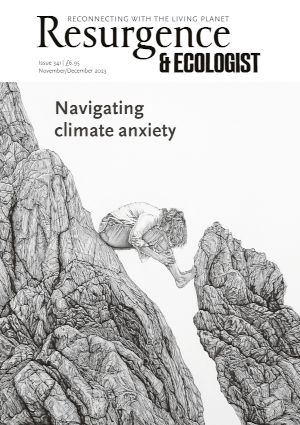 Cover: This Shifting Earth, 2021 by Kim Anderson www.kim-anderson.com.au
Kristian Buus introduces his series of portraits of young activists looking to the future, scared and angry at what they see
Just Stop Oil (JSO) is the latest group of climate activists putting themselves in line of arrest through disruptive and peaceful direct actions. I have covered these actions as a photojournalist and this portrait series merges photographs of the activists in action and intimate portraits shot in a studio. I have focused on young activists because they have their whole life ahead of them, which will be very different from what I have known, in a future with climate breakdown.
This portrait series is an attempt to take a more intimate view of the individual activists and to slow down the drama ...
To read the rest of this article, please buy this issue, or join the Resurgence Trust. As a member you will receive access to the complete archive of magazines from May 1966.
If you are already a member, please Sign in