A Desert Garden
Donate Now
Issue 341

Nov/Dec 2023
Navigating Climate Anxiety
Ecologist
A Desert Garden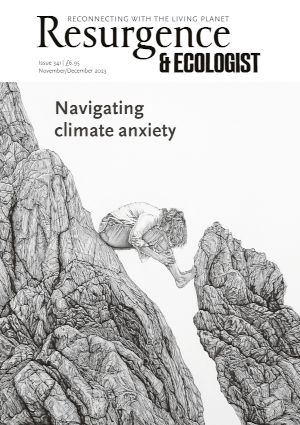 Cover: This Shifting Earth, 2021 by Kim Anderson www.kim-anderson.com.au
What were the challenges of bringing an arid desert wasteland near the Indian city of Jodhpur back to a place that is now teeming with life? Rashi Goel reports
I wouldn't necessarily say that the times we live in are dark. Gloomy like the twilight hour? Perhaps, but not dark as the night. For there are some rays of hope around the world that keep it from getting so dark that we lose all hope. The Rao Jodha Desert Rock Park is one such glimmer of hope that shines bright, lighting up around 72 hectares of desert land that went from being barren with dead soils to being full of life and promise.
At the end of 2005 Pradip Krishen, an environmental conservationist, was invited by the Mehrangarh Museum Trust in Jodhpur, Rajasthan, India to restore the nat-ural ...
To read the rest of this article, please buy this issue, or join the Resurgence Trust. As a member you will receive access to the complete archive of magazines from May 1966.
If you are already a member, please Sign in