The Peace of Wild Things
Donate Now
Issue 341

Nov/Dec 2023
Navigating Climate Anxiety
Navigating Climate Anxiety
The Peace of Wild Things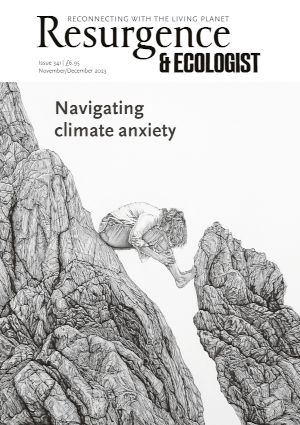 Cover: This Shifting Earth, 2021 by Kim Anderson www.kim-anderson.com.au
Kim Anderson's intricate artwork is inspired by Wendell Berry's poem
Inspired by Wendell Berry's poem 'The Peace of Wild Things', Kim Anderson's intricately detailed drawings explore the inextricable link between humanity and the natural world. Interweaving themes of vulnerability, resilience, empathy and solace, she hopes to offer a salve to our collective anxiety as we navigate these uncertain times.

To explore further Kim's work and inspiration visit our gallery pages.
Work from this series will be exhibited at Flinders Lane Gallery ...
To read the rest of this article, please buy this issue, or join the Resurgence Trust. As a member you will receive access to the complete archive of magazines from May 1966.
If you are already a member, please Sign in