Emergent Strategy
Donate Now
Issue 341

Nov/Dec 2023
Navigating Climate Anxiety
Navigating Climate Anxiety
Emergent Strategy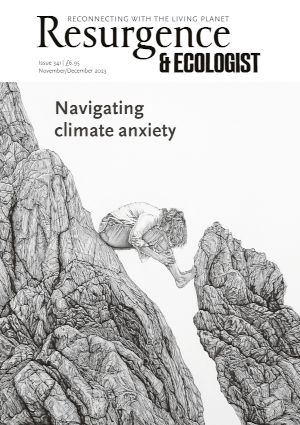 Cover: This Shifting Earth, 2021 by Kim Anderson www.kim-anderson.com.au
Finding and joining groups of collective resistance, reconnection and remedy is a powerful way to combat the loneliness of climate anxiety, writes Charlie Hertzog Young
We live in an extractive culture that is leading to climate catastrophe and, as a result, an epidemic of mental ill health. At the same time, those movements and other ways of knowing that would serve to highlight this threat are excluded. This has, of course, been the case for centuries, and now with the upshot of eviscerating cultures, peoples, landscapes and cosmologies.
Ours is the opposite of a healing culture. It disconnects and dominates while claiming to enrich. This means we often forget the dizzying array of skills and knowledges we have that could be applied readily to a regenerative ...
To read the rest of this article, please buy this issue, or join the Resurgence Trust. As a member you will receive access to the complete archive of magazines from May 1966.
If you are already a member, please Sign in