A Yoga of Action
Donate Now
Issue 341

Nov/Dec 2023
Navigating Climate Anxiety
Navigating Climate Anxiety
A Yoga of Action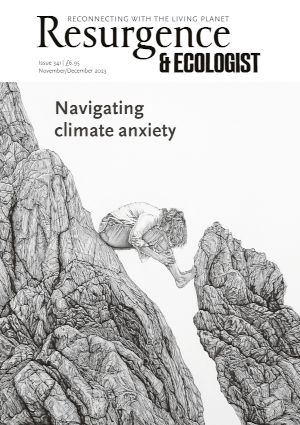 Cover: This Shifting Earth, 2021 by Kim Anderson www.kim-anderson.com.au
Could yoga's ancient texts help restore 'right action' by shifting the emphasis from individual to planetary health and wellness? Yoga teacher Helen Clay thinks so…
"Yoga … has a valuable contribution to make in addressing climate change, the defining issue of our time."
So said Amina Mohammed, the UN Deputy Secretary-General, during International Day of Yoga, 2019. In March 2023 António Guterres, the UN Secretary-General, warned that we must act now or it will be too late: "Our world needs climate action on all fronts – everything, everywhere, all at once."
So is it really the case that yoga can help address climate change? If so, how can yoga contribute?
Whereas many in the 1960s and 1970s saw yoga as a countercultural alternative to western ...
To read the rest of this article, please buy this issue, or join the Resurgence Trust. As a member you will receive access to the complete archive of magazines from May 1966.
If you are already a member, please Sign in