The Long Legacy
Donate Now
Issue 341

Nov/Dec 2023
Navigating Climate Anxiety
Art and Culture
The Long Legacy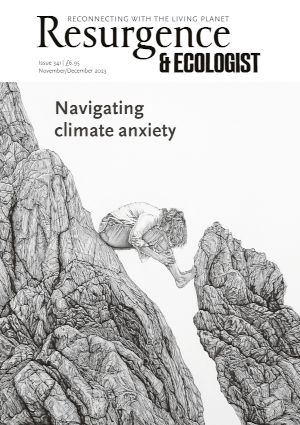 Cover: This Shifting Earth, 2021 by Kim Anderson www.kim-anderson.com.au
Art is magic and has the ability to take us to unexpected places and to feel before we consciously think, writes Matthew Shaw. Here he speaks with one of the UK's best-loved artists, Jeremy Deller
Jeremy Deller won the Turner Prize in 2004 and was selected to represent Great Britain at the Venice Biennale in 2013. His work has been exhibited in major galleries around the world, whilst he continues to make art accessible to everyone in public spaces. For me he is one of the most interesting artists working today. His chosen themes are always closely connected to my own interests, which explains some of this, but the work is at the same time always surprising and often unexpected both in the way it makes me feel and in the complexity of the subject presented.
I caught up with him to discuss ...
To read the rest of this article, please buy this issue, or join the Resurgence Trust. As a member you will receive access to the complete archive of magazines from May 1966.
If you are already a member, please Sign in