Seeing the Bigger Picture
Donate Now
Issue 341

Nov/Dec 2023
Navigating Climate Anxiety
Art and Culture
Seeing the Bigger Picture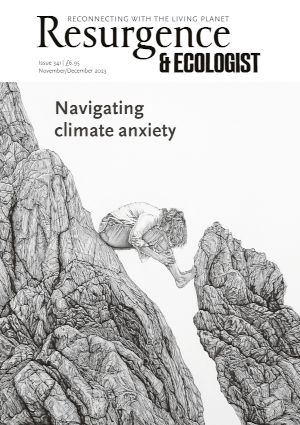 Cover: This Shifting Earth, 2021 by Kim Anderson www.kim-anderson.com.au
Artist Debbie Baxter reflects on the power of creativity to help us make a deep connection with Nature
Why paint if you can take a photograph? Why take the trouble to paint something that takes days, even weeks, when AI can do it in ten minutes and win high-end art competitions? Because, with every brushstroke, a piece of me is expressed, and that's a process of creativity. Creativity is something we humans have the profound ability to experience in all its varied forms. Perhaps AI will bring us back home – painters will no longer do it for show or for commercial reasons, but for and from the soul.
And we need soul! We need it more than ever on this planet, in our work and in our hearts. This ...
To read the rest of this article, please buy this issue, or join the Resurgence Trust. As a member you will receive access to the complete archive of magazines from May 1966.
If you are already a member, please Sign in