Change is More than Possible
Donate Now
Issue 341

Nov/Dec 2023
Navigating Climate Anxiety
Reviews
Change is More than Possible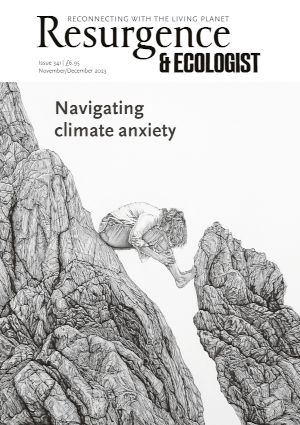 Cover: This Shifting Earth, 2021 by Kim Anderson www.kim-anderson.com.au
Caroline Lucas reviews Not Too Late: Changing the Climate Story from Despair to Possibility by Edited by Rebecca Solnit & Thelma Young Lutunatabua
In the closing essay of this remarkable anthology, Thelma Young Lutunatabua recalls the 2005 manifesto written by Grace Lee Boggs and other women leaders, in which, she writes, they assert: "Another world is necessary, another world is possible, another world has already started." Not Too Late powerfully evidences and invokes that promise, striking just the right balance between what Rebecca Solnit, Lutunatabua's co-editor, refers to as "danger" and "possibility".
The book doesn't shirk the stark truth of climate danger. Contributor Joëlle Gergis, a climate scientist and lead author ...
To read the rest of this article, please buy this issue, or join the Resurgence Trust. As a member you will receive access to the complete archive of magazines from May 1966.
If you are already a member, please Sign in